Sharon Stone gets candid about having 'lost 9 children by miscarriage,' plus more news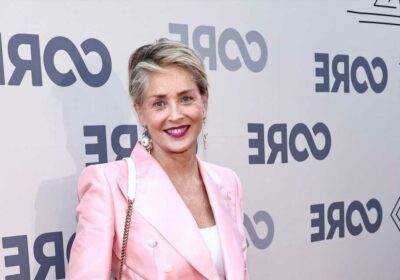 Sharon Stone reveals past miscarriages, says women shouldn't have to bear the experience alone
After spotting a post about "Dancing With the Stars" alum Peta Murgatroyd's recent pregnancy loss on Instagram, Sharon Stone revealed in a comment that she's endured nine miscarriages over the years. "We, as females don't have a forum to discuss the profundity of this loss. I lost nine children by miscarriage," Sharon, 64, wrote on the People magazine post on Wednesday, June 22. "It is no small thing, physically nor emotionally yet we are made to feel it is something to bear alone and secretly with some kind of sense of failure. Instead of receiving the much needed compassion and empathy and healing which we so need. Female health and wellness left to the care of the male ideology has become lax at best, ignorant in fact, and violently oppressive in effort," she concluded. Sharon was ultimately able to adopt and is the mother of sons Quinn, Laird and Roan. Peta, whose husband Maks Chmerkovskiy was in Ukraine when she lost her pregnancy, didn't know she was pregnant until she ended up in the hospital. She'd tested positive for COVID-19 a few days earlier. As she told People, though, she felt "completely embarrassed" and "ashamed" when she learned she'd lost the baby, having lost two pregnancies in the past. She and Maks are now trying to have a second child via IVF.
RELATED: See which other stars have adopted
Halle Berry, Donald Trump and more stars react to SCOTUS overturning Roe v. Wade
"Guns have more rights than women." That was Halle Berry's response after the Supreme Court struck down Roe v. Wade on Friday, June 24, ending women's constitutional right to an abortion as about half the states in the country move to ban the procedure. In Louisiana, Kentucky and South Dakota, abortion is now banned in virtually all cases, including rape and incest. "I'm outraged! What the supreme court has done is BULL****," Halle vented on social media. "Something has to be done! Guns have more rights than women. Stop this war on women & keep your laws off of our bodies. We have to ban together & NOT accept this! We can't just post about it, we must DO SOMETHING about it." Other stars opposing the historic decision include Taylor Swift, who said on social media that she's "terrified" that the U.S. has come to this, and Mark Ruffalo, who noted that "this country was founded on the separation between church and state," saying the SCOTUS has destroyed that ideal and "turned into a political organ of the religious right," among many others. "What a sad day for this country," Andy Cohen posted. "Guns for everybody and no reproductive rights. Twisted. Twisted." Donald Trump, meanwhile, took credit for the SCOTUS decision, saying it was "only made possible because I delivered everything as promised." 
RELATED: Stars react to the mass school shooting in Uvalde, Texas
Anna Faris reflects on divorce, marriage to Michael Barrett: 'It feels healthier this time'
They don't say "third time's the charm" for nothin'. Anna Faris opened up about her marriage to cinematographer Michael Barrett on Chelsea Handler's "Dear Chelsea" podcast this week, telling the comic she feels like "a divorce veteran" after ending her marriages to Ben Indra and Chris Pratt. "This time, it has been easier for me to accept a lot of love … I still kind of struggle with it," said Anna, 45. "When I was younger, if there was a lot of love — I must've subconsciously liked a chase," she admitted later during her chat with Chelsea. This time around, she said, "It feels healthier … It feels like I can be loved." The "Mom" star told her own podcast listeners last year that she and Michael had eloped in Washington state. The pair reportedly started dating in 2017 after working together on "Overboard." Looking back on her previous marriages, Anna admitted that "it hit hard the first time," when she and Ben called it quits. "I turned into somebody that I didn't recognize. I was always the kind of person that had their fridge filled. And I hosted a lot of dinners," she said before joking "that was back when I had friends." Anna went on to marry Chris in 2009, one year after splitting from Ben. She and Chris share 9-year-old son, Jack.
Nick Cannon and Alyssa Scott launch pediatric cancer foundation in honor of late son Zen
One day after celebrating what would have been their late son Zen's birthday with a lighting ceremony, Nick Cannon and Alyssa Scott announced the launch of a new pediatric cancer foundation in Zen's name. "June 23rd will forever be a day of celebration," Nick wrote on Instagram on Friday, June 24. "A beautiful lighting ceremony to honor the life of an Angel. Zen's birth has now transformed into 'Zen's Light," he continued. "We are proud to announce his new foundation that will help so many others in this world. 'Zen's Light' mission is to foster global excellence in hope, grief care and pediatric healthcare for families and children in need." In December 2021, Nick revealed on his show that Zen had died at just 5 months old after being diagnosed with brain cancer. On Instagram this week, he thanked "everyone who joined us at this inaugural event" and name-checked "the Children's Hospital of Orange County and our other beautiful partners." Nick added:"Can't wait for next year where our Lighting Gala will continue [to] grow to help find a cure for pediatric cancer, further research and help console more families during difficult times. 🙏🏾"
'Jersey Shore' star 'The Situation' hit with $2.3M tax lien
In the wake of his stint in federal prison for tax evasion, "Jersey Shore" star Mike "The Situation" Sorrentino is in the hole again, tax-wise. In the years between 2010 and 2016, Mike racked up $2.3 million in unpaid taxes, The Sun reported this week. He's reportedly faced a tax lien since April — a New Jersey clerk confirmed to the outlet that his debts remain "open and outstanding." A publicist for the reality TV star said Mike's "been working diligently to comply with his current and past tax obligations, and he will continue to do so." In early 2018, Mike and his brother pleaded guilty to falsifying information on Mike's tax returns amounting to nearly $9 million. The star was sentenced to eight months behind bars that October. He married his longtime girlfriend Lauren Pesce shortly before reporting to prison; the couple welcomed their son Romeo last year.

Source: Read Full Article