Serena Williams' Husband Alexis Ohanian Hits Back At Drake For Calling Him Her 'Groupie' In New Song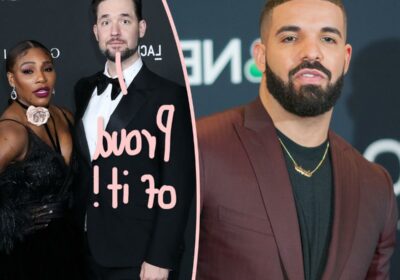 Serena Williams' husband, Alexis Ohanian, is proud to be her biggest fan!
As you know, Drake released a new album with 21 Savage called Her Loss on Friday, and some of the lyrics have many people raising their eyebrows — including one he rapped about the tennis star's hubby. In one of the new track's Middle of the Ocean, the 36-year-old rapper, who was linked to Serena in 2015, took aim at the Reddit co-founder and dissed him for being a "groupie" to Serena. He says in the song:
"Sidebar, Serena, your husband a groupie / He claim we don't got a problem but / No, boo, it is like you comin' for sushi / We might pop up on 'em at will like Suzuki."
However, Drake calling the 39-year-old entrepreneur a groupie for Serena is not the insult The Motto artist may think it is! Later on Friday, Alexis responded to the song by gushing about Serena and their 5-year-old daughter Olympia in a Twitter thread promoting a new profile about him and his career. He expressed:
"It's cliche, but life changed when I became a husband + papa. It's made me 100x better as a man and a businessman. In @serenawilliams I found a partner I knew I would never outgrow, who would always motivate me to be Greater. And in 776, I found partners + team who do the same."
He continued:
"I'm grateful. Everything I accomplished before those hard convos in 2020 is irrelevant to me compared to the work Jr will see me doing now. Creating one multi-billion dollar company (& seeding 35+ more) taught me a lot, now we're going to scale that using software + empathy."
Alexis then ended the post by sharing a picture of him and Olympia cheering Serena on from the sidelines during a tennis match and writing:
"The reason I stay winning is because I'm relentless about being the absolute best at whatever I do — including being the best groupie for my wife & daughter."
via GIPHY
Nothing better than seeing someone proud of their loved ones! Ch-ch-check out his clap back at the song (below):
Serena appeared to appreciate her hubby's stellar response as she reacted to his tweet in the comments section with several smiley and heart-faced emojis. Reactions to Alexis' response to Drake's diss? Let us know in the comments below!
Source: Read Full Article