Selena Gomez's New Tattoo Could Be Her Biggest Yet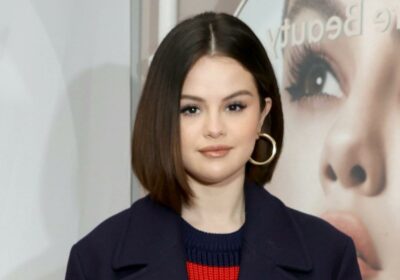 Just last week, Selena Gomez fans got a tease when the star flashed a peek at her new tattoo, but we finally have a full look at the latest addition to her collection. It comes thanks to celebrity tattoo artist Bang Bang (real name Keith Scott McCurdy), who Gomez has enlisted for some of her other work. He revealed the full back piece on Instagram, which shows a watercolor-style rose, which starts at the back of her neck and trails down her spine.
Gomez chose a soft pink color for the blooming rose and McCurdy's design morphs with dreamy stems and hazy sweeps of shading around the bloom. The rose sits under the roman numerals on the base of her neck. Gomez hasn't offered any insight into the choice, though she rarely discusses any of her many tattoos publicly.
"Watercolor on @selenagomez," he wrote. "Thank you for always being wonderful🖤"
Page Six reports that Gomez's other tattoos (People counts at least 16 total) include a set of praying hands on her hip — another large one — as well as the date of her kidney transplant on her arm, Arabic script, and the word "rare" on the side of her neck.
Her very first tattoo was a tiny music note on her wrist. In an interview with Access Hollywood, she said she got it because "music is a big influence in my life."
"I was named after a singer. I'm a singer and a lot of other personal reasons," she explained. "So, that's what I got."
Source: Read Full Article