Saved By The Bell Cast Honors Dustin Diamond's Death With Touching Posts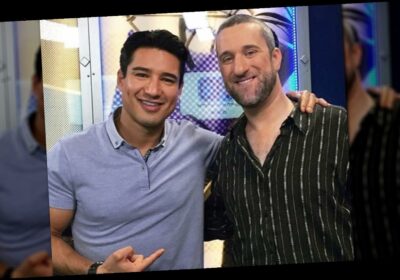 The death of Dustin Diamond less than a month after his diagnosis of stage 4 lung cancer was a blow to the legions of fans who fondly remember watching his antics as Samuel "Screech" Powers on Saved by the Bell and its many follow-ups (via IMDb). When a TV show becomes a regular part of your life, losing one of its cast members is like losing a little part of your personal history. But among the people who will mourn him most deeply are the ones who worked alongside him on the iconic sitcom for so many years.
The popular late-'80s show featured Diamond, along with actors Mario Lopez, Tiffani Thiessen, Mark-Paul Gosselaar, Elizabeth Berkley, and Lark Voorhies, as teens negotiating the rocky terrain of studies, friendship, and adolescence at the fictional Bayside High School. They worked together for the last time on Saved by the Bell: Wedding in Las Vegas, and only Lopez and Berkley appeared in the Saved by the Bell reboot. Their time together was clearly meaningful to them, and the cast reacted to Diamond's death with heartfelt tributes on their social media pages.
Dustin Diamond's costars will miss him deeply
Despite the rather snarky tell-all book Diamond wrote back in 2009 (which he later claimed was ghostwritten), his costars had nothing but praise for their fallen castmate. Lopez shared this sweet farewell: "Dustin, you will be missed my man. The fragility of this life is something never to be taken for granted. Prayers for your family will continue on…" Thiessen wrote a very similar eulogy: "I am deeply saddened by the news of my old co-star @realdustindiamond passing. Life is extremely fragile and it's something we should never take for granted. God speed Dustin [broken heart emoji]."
Gosselaar sent a touching tweet: "Deeply saddened to hear of the passing of Dustin Diamond, a true comedic genius. My sincere condolences to his family and friends. Looking back at our time working together, I will miss those raw, brilliant sparks that only he was able to produce. A pie in your face, my comrade." On her Instagram feed, Berkley shared a photo of Diamond in all his Screech glory, saying, "I'm grateful to have gotten to create with Dustin when we were at the beginning of our dreams coming true. I will hold onto those sweet memories and the laughs we shared. Rest In Peace." And while Voorhies hasn't yet commented publicly on Diamond's death, she did write a message of support to him two weeks earlier, shortly after his cancer diagnosis. In the caption, she called him "one of my dearest friends," and added, "Dustin, all the many in your close circle who know you to be the great person that you are, are truly pulling for you and praying for the best outcome."
Source: Read Full Article