Sam Faiers shares son Edward's eczema journey as she heals skin condition 'naturally'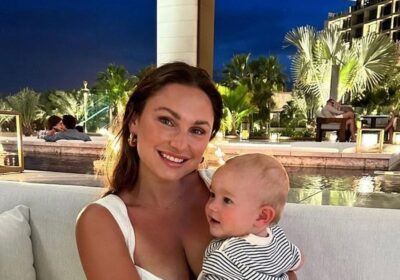 Sam Faiers has candidly shared that her youngest son Edward has been suffering from eczema for several months and outlined the 'natural' methods she used to help cure the skin condition.
The former The Only Way Is Essex star, 32, opened up about her one year old son's eczema battle in a video shared to Instagram, which included numerous images of Edward's skin over recent months.
Eczema is an inflammatory skin condition that causes itchiness, dry skin, rashes, scaly patches, blisters and skin infections.
Edward could be seen with red patches across his face and body in many photos, while other snaps documented the methods Sam had used to help heal his skin.
She told fans she'd healed Edward's skin "naturally" and had spent months researching how babies get eczema in order to gain a full understanding of the condition, but she did warn her followers that she wasn't providing medical advice.
Sam, who also shares son Paul and daughter Rosie with partner Paul Knightley, began by writing: "I've wanted to share this with you for so long now. It really does break my heart looking at these images and videos. We healed Edward NATURALLY.
"please do not write anything negative, I just really wanted to share with you what we researched and what we done to heal Edward It took us a few months to really understand how babies get eczema. It was totally new to us as parents, Paul & Rosie didn't have it so we really didn't know what why or how Edward got it so severely."
She went on to note how there is a "strong link between eczema and the gut" and it's also "a case of vitamin and mineral deficiency" before sharing what had worked for him.
Sam told how she made many changes to Edward's diet, including eliminating eggs, milk, wheat, gluten, refined sugar and cutting out processed foods.
She continued: "We eat lots of grass fed lamb and meat. ONLY use coconut oil when cooking (we use a flavourless organic one from Amazon). SUNSHINEthis was the most noticeable highlight for us in the process. Every chance we had when the sun was out we would put him in it.
'"Shilajit (drops in with water) liquid vitamin D was great and easy to give Edward. Water, we added ION gut for kids to every drink he had. Bath in Epsom salts, apple cider vinegar & clay. Small amounts of each a few times a week."
The ex-TOWIE star also revealed she purchased a red light from Amazon and used "a pure organic tallow balm" to help stop Edward feeling itchy.
She signed off her post by saying: "3/4 months and it cleared up It wasn't easy, but look at him now. We have now introduced all foods and he is eating practically everything (in moderation).
"I hope this helps anyone who has a baby with eczema. You're not alone," before tagging some people who had helped her along the way.
Source: Read Full Article