Sally Nugent spills on her 'really rebellious' habit behind-the-scenes of BBC Breakfast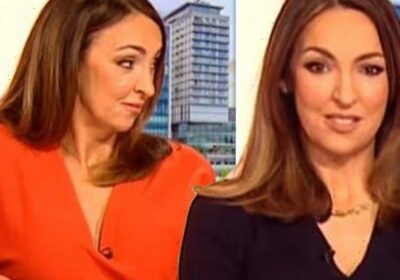 BBC Breakfast: Charlie Stayt and Sally Nugent open show
We use your sign-up to provide content in ways you've consented to and to improve our understanding of you. This may include adverts from us and 3rd parties based on our understanding. You can unsubscribe at any time. More info
BBC Breakfast presenter Sally Nugent has opened up on the "really rebellious" habit she sometimes finishes her day with. In a new interview, the newsreader, 50, spoke about joining the BBC Breakfast team following the departure of Louise Minchin last year, after nearly 20 years at the helm.
Around 9.30pm, although if I'm being really rebellious, I'll stay up and watch Newsnight

Sally Nugent
Addressing her nighttime routine, Sally candidly painted a picture of an evening in the Nugent household.
The journalist admitted that if she was feeling awake, she'd watch her colleague Emily Maitlis on BBC Two.
She said: "Around 9.30pm, although if I'm being really rebellious, I'll stay up and watch Newsnight."
However, she admitted that she also has a meeting to prepare for work before going to bed.
Sally explained: "Before bed, I have a late briefing on the phone with whoever is editing the programme through the night."
The BBC star told how her alarm is set for 3.40am, with her leaving the house half an hour later.
While on the way to the office, Sally told how she tunes in to BBC Radio 5 Live to get up to date with the news, before scanning the newspapers ahead of sitting on the red sofa.
Elsewhere in the interview, Sally also opened up on how she's finding her time on BBC Breakfast so far.
In October last year, the star was confirmed as the permanent replacement for Louise Minchin after the latter stepped down from her role as BBC Breakfast host.
Speaking about the past couple of months with her new co-host Dan Walker, Sally couldn't help but gush over her colleague.
She said: "He's the perfect colleague because he knows when to talk, when to listen and when to laugh."
She continued to tell the Radio Times that they share almost 20 years of friendship and that she trusts Dan "completely".
Recently, Dan cheekily branded Sally "a hindrance" after she helped him score high on a new word-based game.
Discussing the hit game Wordle with Countdown's Susie Dent, the pair attempted to play the game and managed to guess the word after an impressive three tries.
Taking to Twitter, Dan wrote: "We are talking to @susie_dent about the obsession with Wordle on #BBCbreakfast this morning.
"@sallynugent and I combined our brains and got it done in 3," he added with a trophy emoji.
The presenter also attached a picture of the green squares appearing from two, to three, to five, as each letter was placed in the right order.
"Minus points for not doing it yourself," BBC Radio 5 Live presenter Steve Crossman pointed out, with reference to Sally.
"Sally was looking over my shoulder. More of a hindrance than a help," Dan replied with three laughing emojis.
Sally simply responded with a winking face emoji and gave no additional information on how much she might have helped Dan.
The latest edition of Radio Times is on newsstands now.
Source: Read Full Article