Rylan Clark gives rare insight to behind-the-scenes of Celebrity Gogglebox as series ends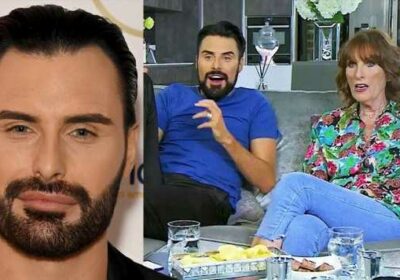 The One Show: Rylan reveals a Gogglebox TV secret
We use your sign-up to provide content in ways you've consented to and to improve our understanding of you. This may include adverts from us and 3rd parties based on our understanding. You can unsubscribe at any time. More info
Rylan Clark, 33, has been on Celebrity Gogglebox with his mother Linda Clark for a number of series. The Channel 4 star has taken to Instagram to share a behind-the-scenes look at the show, as filming ends for the series.
Thanks for an amazing time!

Rylan Clark
Rylan took to Instagram to give his 1.5 million followers an insight into how the show works.
He did this as he bid farewell to those behind the camera at his Essex home.
The Strictly: It Takes Two presenter shared a snap of himself and Linda on the green sofa along with 7 crew members.
The camera was strategically placed on top of the television where the show's cameras are placed.
View this post on Instagram

A post shared by RYLAN (@rylan)
He captioned the post: "And just like that Team Blue from @c4gogglebox finished. Thanks for an amazing time xxx."
Fans couldn't contain their excitement as they rushed to the comments to share their astonishment at the amount of crew members.
Julieknapp141 said: "@rylan does it really take all those people to film you watching TV? Who knew."
Kirstykirkpatrick added: "Why did I think it was just a camera on top of the TV xx."
Others however took to the comments to share their love for the pair on the show.
Susie_jeffs said: "Love you and your mum! so funny." (sic)
Douaygirl added: "Your mum makes me laugh so much."
This comes as Rylan took to Twitter earlier this month to reassure his fans that his mother was okay after she was spotted on the show with a drip.
Social media user KateWilliams wrote: "@Rylan is Mum ok? Saw the drip on #Gogglebox."
The former X Factor star responded: "Had a lot of people ask, mum is fine, she has a tpn line for a feed…
"To do with her crohns . V normal," he went on to explain.
"Thanks for asking," Rylan added with two kisses.
According to the NHS, Crohn's disease is a lifelong condition where parts of the digestive system become inflamed.
It's one type of a condition called inflammatory bowel disease (IBD).
Linda has previously opened up about her Crohn's disease, explaining how she was diagnosed with the condition in her early 30s.
She told The Mirror: "I'm not well a lot of the time. I have nurses come round every morning and evening to give me a special feed.
"I've had Crohn's since I was 30 and used to be in so much pain I'd be crying all the time. It was unbearable – I felt like I wanted to get a knife and punch my stomach open."
Source: Read Full Article