Russell Howard 'fascinated' how comedians are under scrutiny in the age of cancel culture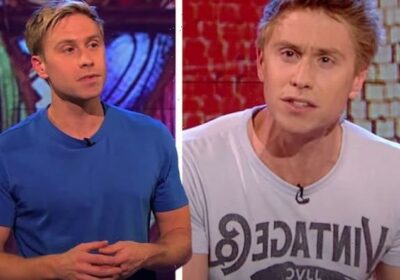 Sunday Brunch: Russell Howard says dad has 'freaky' music taste
We use your sign-up to provide content in ways you've consented to and to improve our understanding of you. This may include adverts from us and 3rd parties based on our understanding. You can unsubscribe at any time. More info
Russell Howard, 40, opened up about how cancel culture doesn't really exist in comedy, with comedians often pushing boundaries that might be deemed inappropriate away from the stage. The TV star revealed he doesn't believe there's a battle between the woke and the traditional, something that's become a big talking point over the past few years.
Comedians are reviewed like presidents, and presidents are getting away with being comedians

Russell Howard
In a recent interview, the funny man admitted he's not worried about his industry and cancel culture.
"I just find it fascinating that comedians are under scrutiny," he shrugged.
"Comedians are reviewed like presidents, and presidents are getting away with being comedians.
"I find the fact that true crime is massively popular very funny, so comedians are being cancelled but murderers are being commissioned?"
He went on to explain: "The great thing about stand-up is you can say whatever you want.
"I don't really think there's this big battle taking place between the 'woke' and the traditional."
Russell recently spoke put about why he wouldn't feature any politicians, let alone Prime Minister Boris Johnson on his late night TV show, The Russell Howard Hour.
The presenter is known for his quick wit, sassy sense of humour and relentless mocking but you can bet your bottom dollar Mr Johnson will never step foot in the studio.
In a 2019 interview, Russell gave his verdict on the PM after he was named as Theresa May's successor, branding him "half alpaca, half thesaurus" in a hilarious chat with Today FM.
But more recently, he explained why he wouldn't want him on his show in front of his audience.
"I wouldn't have him on the show, we've been offered politicians before," he said.
"It's difficult because you don't want to be cozy or chatty with them.
"You want to be able to talk about them without the fear of being too nice."
He added: "You've got to be a comedian and take the mickey, you can't try and be people's friend."
And amidst the tough times we're living in, Russell explains it's never been a greater time to be a joker, especially when it comes to vital government decision making.
"I'm such a news junkie," he said, referring to the world grinding to a halt as coronavirus raised its ugly head.
"It's a terrible time for humanity, but a phenomenal time to be a comedian."
Source: Read Full Article