Robert Rinder issues public plea after earphones go missing – but offers a reward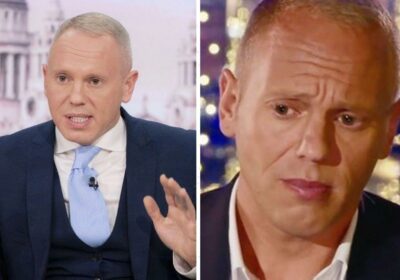 Tipping Point: Robert Rinder answers a question too early
We use your sign-up to provide content in ways you've consented to and to improve our understanding of you. This may include adverts from us and 3rd parties based on our understanding. You can unsubscribe at any time. More info
Robert Rinder, 43, has taken to Twitter and issued a public plea after his Apple AirPods went missing. The star said they ended up at another side of London to where he last saw them.
The barrister, who's known for solving other people's legal battles in the courtroom, launched a public appeal in a bid to retrieve his earphones.
They typically cost upwards of £100, and he took to Twitter to offer a reward.
He explained that the AirPods had made their way from where he last saw them in Central London to roughly 20 minutes across town, close to Hermitage Street.
In a Tweet which has since been deleted, Robert said with sarcasm: "To the kind person who has accidentally picked up my AirPods and (inadvertently assuming they are the true owners) taken them from central London to near Hermitage street.
"Please return them for a reward… and an undertaking not to proceed by theft for the find. Thanks."
He confirmed to MailOnline that he has since bought a new pair of earphones.
The television judge recently made headlines after he travelled to war-torn Ukraine to retrieve his Strictly Come Dancing partner, Oskana Platero's, disabled grandparents at the border.
They had to flee their home following the Russian invasion.
Robert and Oskana competed in Strictly together in 2016, where they reached the quarter-final.
Announcing that he was making the trip earlier this year, Robert tweeted: "Oksana Platero my Ukrainian dance partner on @bbcstrictly gifted me so much.
"Right now her grandparents are a week into their struggle to find sanctuary in a safe country.
"I'll be trying to meet them on the border next week.
DON'T MISS…
Kourtney Kardashian and Travis Barker steal Met Gala spotlight [PICS]
Brooklyn Beckham shirtless as Nicola Peltz dares to bare at Met Gala [LATEST]
Anne Hegerty reacts to Mark Labbett's The Chase replacement [INSIGHT]
"They're just a few of the millions who need us."
Upon reaching them, he took to Instagram to share photos as they hugged.
In March, following his visit to Oskana's grandparents, he also explained that he was experiencing a "bureaucratic nightmare" for his efforts to collect more than 50 orphans from Ukraine.
The ITV star once again took to Twitter at the time to share an update on his mission.
In view of his 201,800 followers, he penned: "On the way to Warsaw to collect 52 orphans and their carers from @DniproKids with @SaveaChildUK.
"My role? Connecting these amazing charities to @MDAUK_ and @VirginAtlantic who have provided the plane.
"Privilege is what you can do & who can reach in power to help others."
However, later on in the day, Robert posted a "nightmare" update about his journey.
He said: "Update. LONDON: We're in the midst of a bureaucratic nightmare.
"A document (permission was granted) is now required from the Ukrainian Authorities to give to the Polish Authorities to give to the British Authorities to let the flight go. This in the midst of a war. @MorawieckiM."
Source: Read Full Article