Rebekah: Coleen's chilling phone call left me suicidal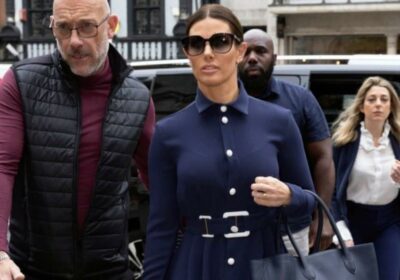 We use your sign-up to provide content in ways you've consented to and to improve our understanding of you. This may include adverts from us and 3rd parties based on our understanding. You can unsubscribe at any time. More info
In her witness statement submitted to the High Court on the first day of the Wags' libel battle, Rebekah also said she feared for her unborn baby's health and felt suicidal.
Talking about their phone call, Rebekah, who was seven months pregnant at the time, said: "[Coleen] didn't answer immediately and then called me back off an unknown number. I felt like she was recording the whole call.
"I hoped that, once I had told her that it was not me, then she would simply fix this. Instead, she accused me of leaking stories about her for years. "I asked her to send me the stories that she thought I had leaked and she said that I knew exactly what I had done.
"I asked her how she could do that to someone who was heavily pregnant and she responded that I had been leaking stories about her when she was pregnant.
"She told me that she wanted to make me feel paranoid the way she had felt paranoid. I still remember her tone on that telephone call really vividly. It was extremely calculated and cold, and she showed no remorse even though I was very upset. I found it very chilling and quite menacing."
In a viral social media post in October 2019, Coleen, now 36, said she had carried out a "sting operation" and accused Rebekah, 40, of leaking "false stories" about her private life to the press.
The wife of former England footballer Wayne Rooney claimed the Instagram account behind three fake stories that she had planted on her own personal account was Rebekah's. The stories, printed in The Sun, included Coleen travelling to Mexico for a "gender selection" procedure for another baby, her plan to return to TV and the basement flooding at her home.
At the Royal Courts of Justice in London Rebekah was flanked by security while Coleen, who wore a medical boot for a foot injury, was with her husband, 36, who manages Derby County.
In Rebekah's written statement, she told how she was on holiday in Dubai on October 9, 2019, with her husband Jamie, who plays for Leicester City, when she saw the post accusing her.
She said: "I was in such a heightened state of emotion because I was heavily pregnant and it felt like the whole world was caving in on me. I must have been in shock. I remember getting out of the car and I was shaking and thought I was going to be sick.
"I felt extremely paranoid and like everyone in the beach club was looking at me. I thought I was going to pass out and Jamie decided we needed to leave straight away.
"I do not fully remember the journey back to the hotel because I was almost hyperventilating. I knew that I had not done anything wrong. I had not leaked those stories and I did not even know what posts I was supposed to have leaked.
"I started getting really bad pains in my stomach when we got back to the hotel.They were contraction-type pains and I panicked that the baby was in danger. I made myself calm down and tried to think clearly.The first bac pa dan thing I did was ring my eldest daughter's school. She was 13 years old and…I needed to make the school aware so that they could try to protect her from bullying."
She continued: "I was genuinely scared that I might lose my baby as a result of the stress I was under after the post…In the early days it made me go to a very dark place and I even felt suicidal. In the last two months of my pregnancy I was admitted to hospital on three occasions. I was diagnosed with stressinduced kidney stones."
Going into the witness box shortly before 4pm, Rebekah, who wore a navy dress, repeatedly denied leaking information to newspapers, telling the court: "I have been called a leaker and it's not nice."
Shortly after questioning whether Rebekah respected people's privacy, Coleen's barrister David Sherborne asked Rebekah about an interview she gave about a sexual encounter with singer Peter Andre.
Mr Sherborne showed what appeared to be an A3 printout of the article to Rebekah before reading out her derogatory description of Peter's manhood. Rebekah claimed she was "forced into a situation by my exhusband" to do the interview.
Mr Sherborne then described the trial as "a detective story. Like any good detective story, you never find a person standing over the body with a smoking gun."
He told Mrs Justice Steyn: "You do not have to be convinced beyond reasonable doubt, you just have to conclude that it is more likely than not that Mrs Vardy was responsible, either directly or through [Caroline]Watt [Rebekah's agent]."
It is expected that both Coleen and Wayne will provide evidence, as well as Wayne's cousin and Coleen's brother.
The court heard that she and Rebekah have spent "hundreds of thousands of pounds" on the case so far, with legal costs expected to run into the millions.
Source: Read Full Article