Priyanka Chopra Brags About 'Perks of Being a Jonas' Amid Split Speculation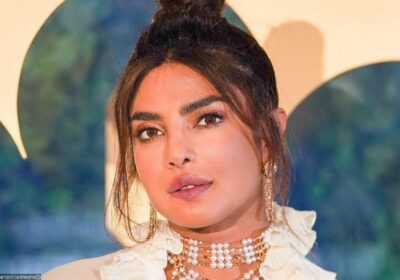 After being hit with rumors that she and husband Nick Jonas were having marital problems, the former 'Quantico' star shares a clip of herself during Netflix's 'Jonas Brothers Family Roast'.
AceShowbiz –Priyanka Chopra is continuing to shut down speculation she's split with husband Nick Jonas.
The "Baywatch" star recently removed her married name from her social media platforms, prompting fans to assume that the couple was to announce its separation.
However, Priyanka later dropped a thirsty comment underneath Nick's Instagram workout post, and she is doubling down on dismissing the rumors for good.
Taking to social media on Tuesday, November 23, the former "Quantico" star shared a clip of herself during Netflix's "Jonas Brothers Family Roast", in which she said, "I am honored and so thrilled actually, and tickled to be here tonight to roast my husband, Nick Jonas, and his brothers, whose names I can never remember."
In the caption, she penned, "Brought my husband and his brothers a nice roast for dinner," and added, "Perks of being a Jonas."
As for her thirsty comment, Priyanka wrote, "Damn! I just died in your arms…," in the comment section of Nick's Instagram post that saw him wearing sleeveless shirt, shorts and compression leggings while doing bicep curls. Along with the note, the 39-year-old added heart eyes emoji in addition to sweating and red heart ones.
Back in July, Priyanka commemorated her engagement anniversary with Nick by posting throwback picture from the night he proposed. "My everything.. 3 years today. Seems like a blink and a lifetime at the same time. I love you," she wrote alongside a photo of her and her husband entwining their hands together.
The two stars got married at Umaid Bhawan Palace, Jodhpur, India in December 2018.
Source: Read Full Article