Princess Kate's adorable nickname for George, Charlotte and Louis revealed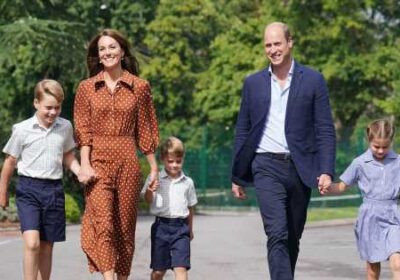 Like many of us, Kate Middleton and Prince William have adorable nicknames for their children, Prince George, Princess Charlotte, and Prince Louis – and no matter how high you are in the Royal Family, having multiple names and titles is the norm.
The Duke and Duchess of Cambridge, like any other loving parents, have special pet names for their kids, with another separate set of names for day to day use, such as at school.
At Thomas's School in Battersea, where Prince George and Princess Charlotte are currently educated, the duo are simply known as George and Charlotte Cambridge, like any other child.
But for senior royals, names can change quickly as their roles shift with the passing of the most senior family members. This was the case with Charles, whose title changed when he became King and other royals took over some of his previous duties and titles.
According to My London, at home, Prince William reportedly calls Princess Charlotte 'Mignonette', which means "small and delicate" in French.
It's also been said that Kate Middleton calls her only daughter "Lottie", a fact she revealed to a Royal fan in Ireland a few years ago.
The best is yet to come however, with William and Kate apparently giving their eldest child Prince George, a very cheeky but memorable moniker!
According to reports, George's name is shortened to PG and even "Tips", in a nod to the British family-favourite tea brand.
Then there's the couple's youngest child, Prince Louis, who won over Royal fans with his cheeky antics during the Jubilee weekend.
There's no sure way yet to know what nickname Kate and William use for their 'baby', but many fans have started calling him "Boss Baby", after the Hollywood character, who shot to fame in the Dreamworks hit of the same name back in 2017, just one year before Louis was born.
And what about the Royal couple themselves? Princess Diana, William's late mother, gave her eldest son a sweet, Australian-inspired nickname in his youth – William "wombat" from when he was just two years old.
Meanwhile Kate has also been known to show her playful side in the past too, having called her husband "Baldy" at university and also "Big Willy".
* This article was crafted with the help of an AI engine, which speeds up OK!'s editorial research and applies it to article templates created by journalists in our newsrooms. An OK! editor reviewed this content before it was published. You can report any errors to [email protected]
Source: Read Full Article