Princess Diana's friend Dr James Colthurst details why she 'floured and egged' his car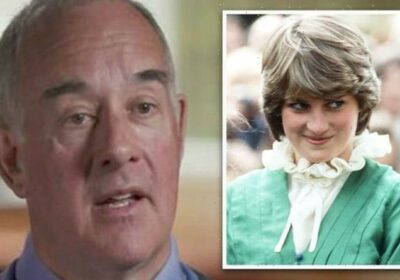 Princess Diana and Fergie caused 'a bit of a riot' says Quinn
When you subscribe we will use the information you provide to send you these newsletters. Sometimes they'll include recommendations for other related newsletters or services we offer. Our Privacy Notice explains more about how we use your data, and your rights. You can unsubscribe at any time.
Dr James Colthurst met Princess Diana during a skiing trip in the late 1970s when she was just 17 and then titled Lady Diana Spencer. The teenager was sleeping on the sofa bed at a mutual friend's chalet in France.
She was the last one to bed and the first one awake, he said of that first encounter.
He described the royal as "funny and lively" and a friendship ensued.
When the pair returned to London they continued to see each other after "hitting it off" on the holiday.
James, who went on to work at St Thomas' Hospital, recalled an amusing incident in which Diana "floured and egged" his car.
Speaking to this week's Radio Times, he remembered her laughter after she threw the cooking ingredients on his vehicle.
The prank was in retaliation to his earlier practical joke.
He told the publication that he'd put L plates and tin cans on her blue Honda Civic.
Within two years of their meeting, Diana, then 19, was engaged to Prince Charles and the pair briefly lost contact.
A short while later, and after settling into royal life, the pair resumed their friendship.
He even assisted the Princess of Wales when she collaborated with Andrew Morton for the 1992 biography, Diana: Her True Story.
The 64-year-old medical professional has now reflected on their time together which spanned two decades.
Dr Colthurst is also set to star in new ITV documentary Diana, which airs next month.
DON'T MISS…
BBC's James Wong rants at 'woke' over Enid Blyton 'racism' row [UPDATE]
'I never knew!' Carol Vorderman left stunned by Piers Morgan's news [INSIGHT]
'He's extremely handsome!' Carol Kirkwood gushes over secret boyfriend [UPDATE]
The programme hopes to show another side to the royal, who died in 1997 at the age of 36.
It will feature archive footage and new interviews to paint a more rounded picture of the mother of Prince William and Prince Harry.
It marks what would have been her 60th birthday.
Jo Clinton-Davis, a commissioner at ITV, said: "This year would have been Diana's 60th birthday, and the intention with this landmark documentary is to offer the definitive account of her life, both in front of the cameras and behind the scenes.
"It is a difficult undertaking to shed new light on the most emotional, dramatic and pivotal elements of the life of Diana, when that light still burns brightly.
"But by delving deep into her relationships with friends, colleagues and staff, our aim is to provide a vivid portrayal of the woman who became known as the Queen Of Hearts."
Her sons also plan to mark the occasion by unveiling a statue of their mother at Kensington Palace.
Prince Harry is due to fly to the UK for the July 1 event, however his wife Meghan Markle, who gave birth to the couple's second child earlier this month, is not likely to be in attendance.
Read the full interview in this week's Radio Times – out now.
Source: Read Full Article