Prince William & Duchess Kate Bring Holiday Cheer to British Military Serving in Cyprus
Christmas came early for military families and personnel at an air force base in Cyprus after the Duke and Duchess of Cambridge jetted in for a festive whirlwind visit.
For their second day of holiday engagements this week, Prince William and Duchess Kate chartered a Royal Air Force Voyager jet to fly to the Mediterranean island's RAF Akrotiri base to honor servicemen and women serving overseas around the world.
The royal couple arrived on Tuesday, December 5 laden with gifts to pass on from the soldiers' children, wives and relatives, whom they entertained the previous day at a special Kensington Palace Christmas party.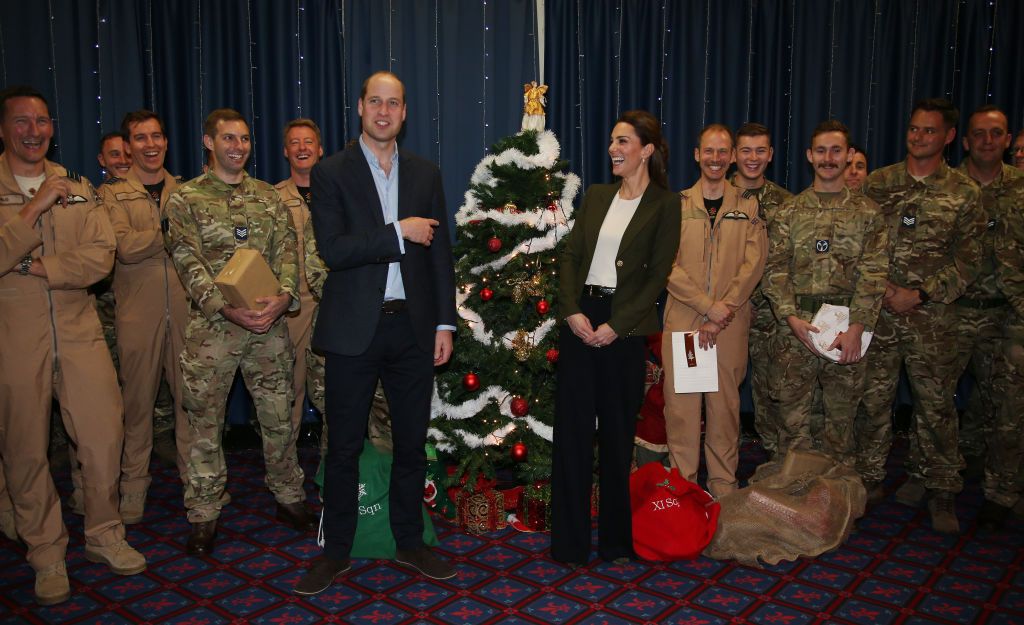 Despite the five-hour early morning flight and a white-tie Diplomatic Corps reception at Buckingham Palace the night before, Kate was in great spirits as she walked onto the airbase wearing a khaki green Smythe blazer and long black pants.
Upon arrival, the Cambridges chatted happily to serving personnel about the previous day's palace event. "It was very kiddie-friendly," Kate said. "I think some of the grandparents felt slightly bombarded. [The children] had a lot of sweets by the end of the day. We felt quite responsible. The sugar highs… There were a lot of marshmallows!"
Corporal Karl Noakes, 33, from RAF Marham in the UK, tells BAZAAR.com he received pictures of his daughter Alysia, two, after she attended yesterday's holiday event at the palace.
"I've been away lots of times and it's never easy, but it's very different now I am a dad," says Noakes. "[The party] meant so much to everyone. My daughter had so much fun but was shattered last night. I think they really understand what it is like for all of us."
The Duchess empathized with the time troops were spending away from their families in service to the UK. "Some of the children really understood what their mums and dads are doing and missed you all," she said. "I'm sorry that we couldn't bring your families with us for Christmas."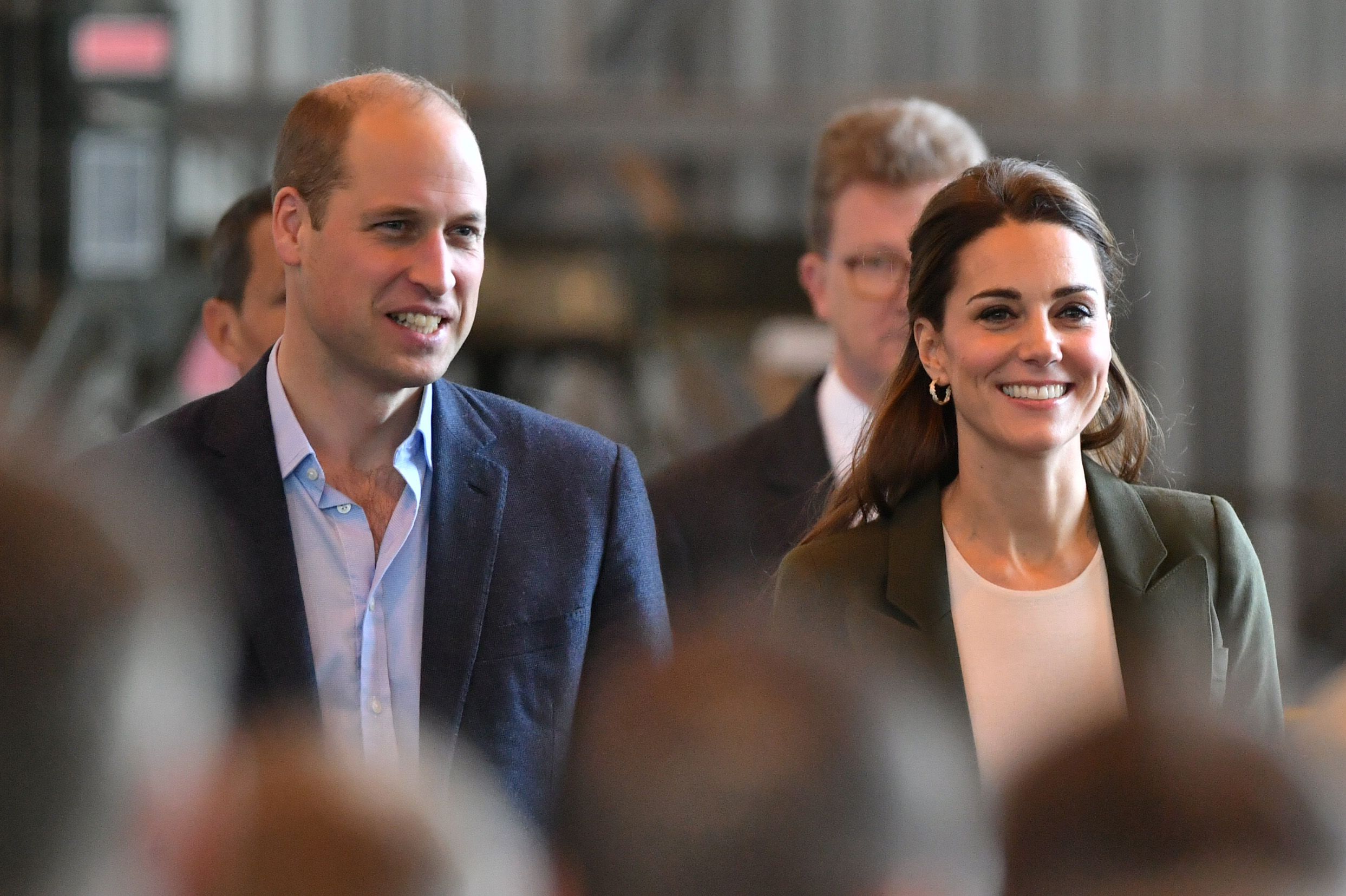 Kate also revealed she had tried to show George and Charlotte the festive treats laid out for military families when they arrived home from school and nursery on Monday afternoon, "But everything was gone—they were so disappointed!"
However, it wasn't a total loss for the royal children, as William shared to a group of pilots: "I told George this morning we were going to see the pilots today, and he said, 'If you see a helicopter can you take a picture?'"
Scott Stewart, 33, from RAF Spadeadam in Cumbria, England, spoke to the royals about looking forward to seeing his children, aged six, three, and 26 weeks, when he returns home in two weeks.
Stewart, a communications specialist on an Expeditionary Air Wing conducting operations against ISIS in Iraq and Syria, added, "Kate said how she thought time means so much, especially in the early years, so it's great to have them recognize the sacrifices we are all making here.
"I'm lucky enough to be going home for Christmas but many people won't be," he said.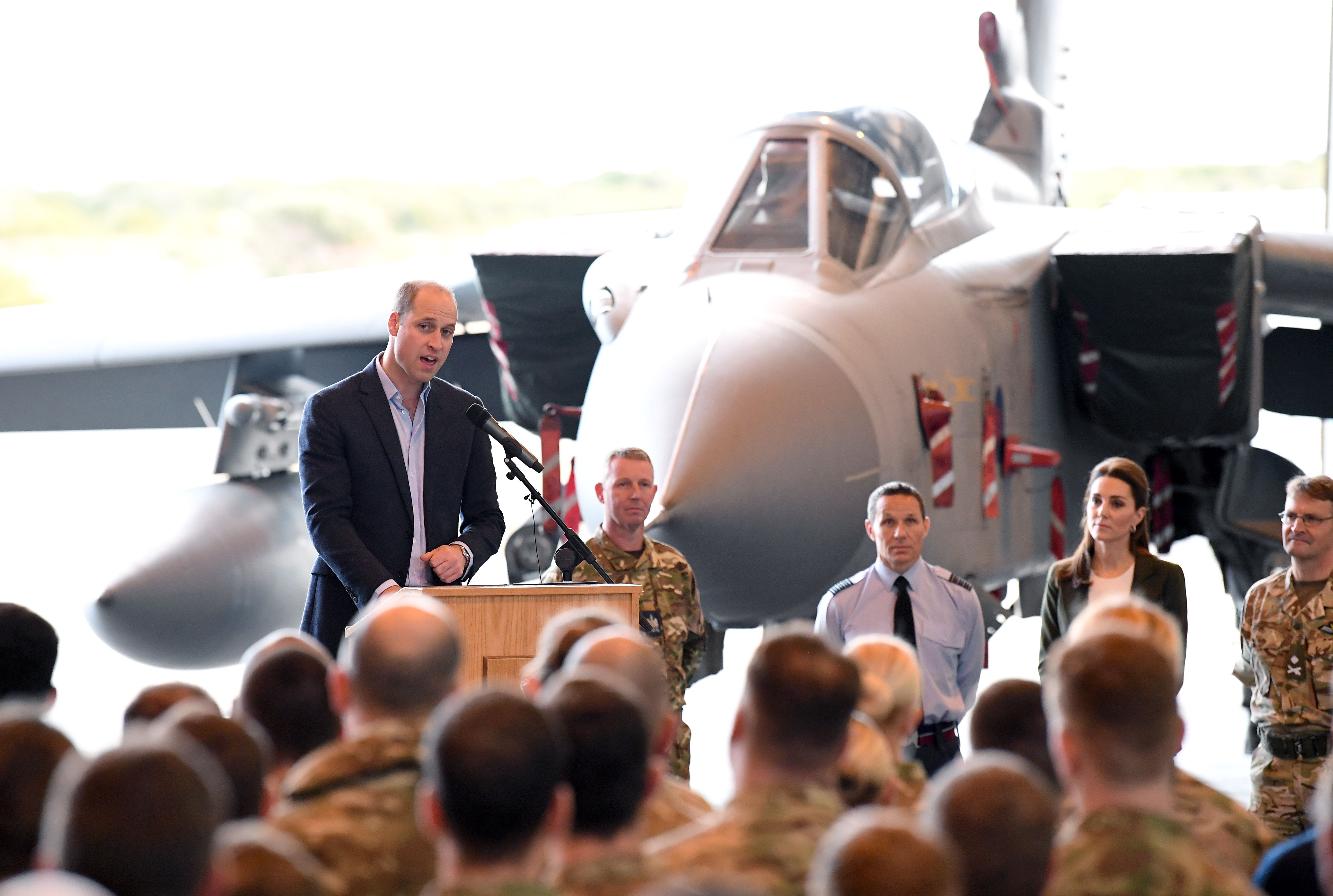 In a speech thanking the service members on the base, Prince William shared his understanding of how it feels to be separated from loved ones this holiday season.
"At any given moment, in every corner of the world, the men and women of the UK military can be found working to protect our country's security and interests," he said. "All of this work is done without fanfare. You don't seek praise for your contribution… But as we approach Christmas, Catherine and I feel strongly that praise for your work and recognition of your sacrifices is exactly what is due to you all. From my time in uniform, we both know a bit of what it feels like to balance your work commitments with your family life."
At Monday's Kensington Palace engagement, the Duchess of Cambridge spoke candidly about her own experiences as a military wife. "As someone whose husband has served, I know how hard it feels when a loved one leaves home to do the job they've trained for," she said. "I can't imagine how it feels when your loved ones are away on active service over Christmas or at those special family moments. The absence of people you love must be especially hard at this time of year."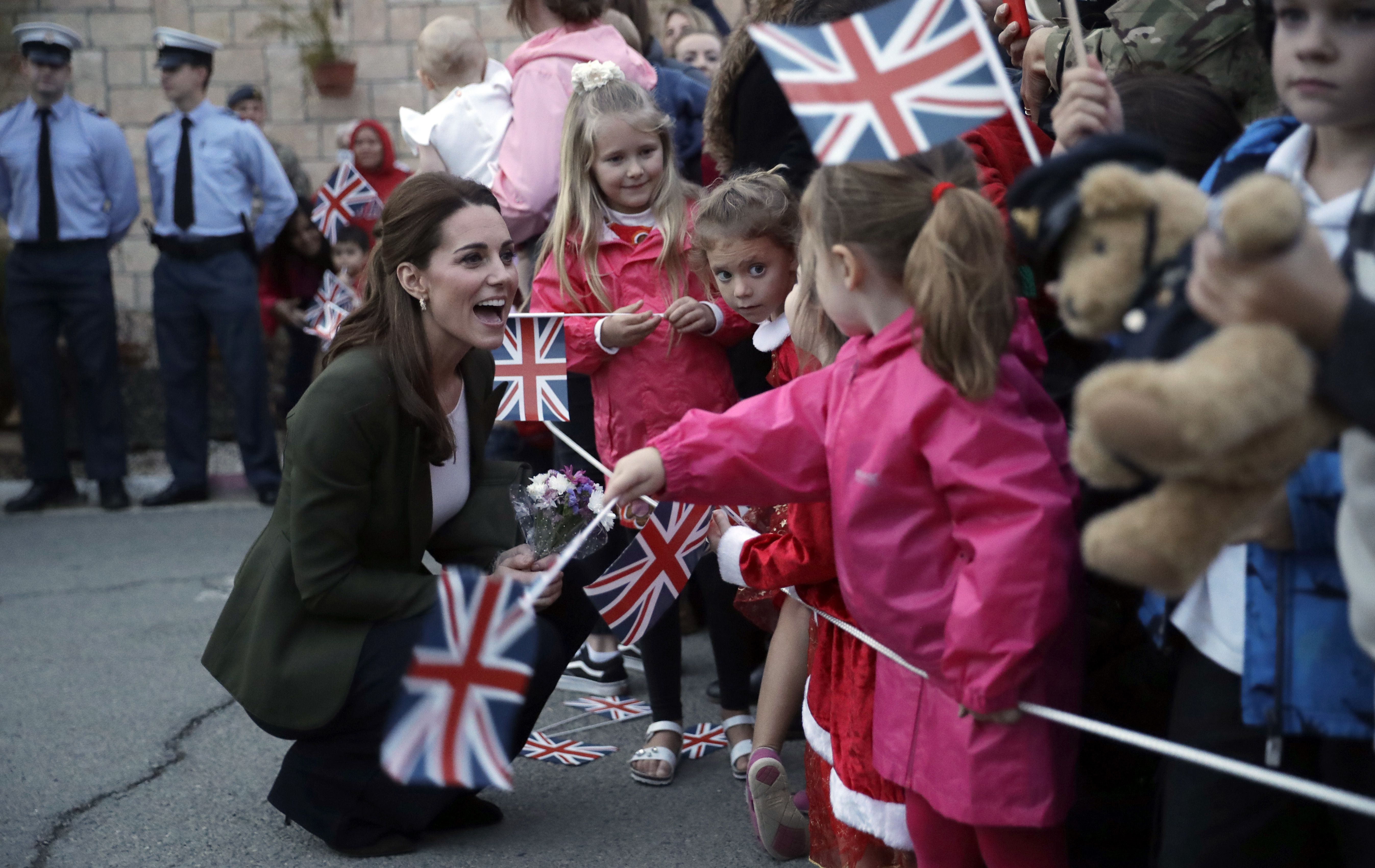 The Cyprus visit ended with the Duke and Duchess opening the base's brand-new Oasis recreation center, which provides a place for relaxation for the servicemen and women living in shared housing. There's even a space to call loved ones back home.
"FaceTime makes such a difference now," Prince William remarked, remembering his days using tokens to make 15-minute calls from the air base when he served. Of the bright yellow sofas in the brand-new space, he joked, "keep the pizza off the sofas!" His wife responded, "You're a nightmare with that!"
Kate also did the honors of cutting a cake created by Melanie Barlow to look like a coral reef, a match to the center's decor. "It's so delicate I don't want to spoil it," she remarked.
Before leaving, William wished everyone well for the holidays. "A very merry Christmas to you all," the Duke smiled. "Although it feels too early to say it, but we are not going to see you. So put it on ice until the day!"
RAF Akrotiri is the home of the Cyprus Operations Support Unit and has around 450 soldiers and 150 family members who have made the move to the Mediterranean from their base in Chester, England, and will continue to serve in Cyprus for at least one more year.
Source: Read Full Article