Prince Harry's royal exit predicted by play years before he met Meghan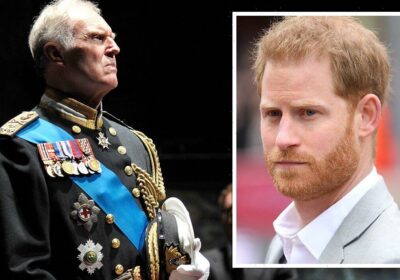 King Charles III: Preview
We use your sign-up to provide content in ways you've consented to and to improve our understanding of you. This may include adverts from us and 3rd parties based on our understanding. You can unsubscribe at any time. More info
The play, written by Mike Bartlett, was also subsequently adapted to a television movie in 2017 and has been receiving growing attention since Queen Elizabeth's death last week. While the main focus is the titular character, new King Charles III, Prince Harry's subplot is eerily similar to what occurred in reality as the Prince falls in love and decides to step down from his royal position.
Prince Harry met his now-wife Meghan Markle in 2016 through a friend, but in April 2014 the play King Charles III premiered at the Almeida Theatre in London.
Bartlett, best known for the BBC drama Doctor Foster, created the play which follows Charles' accession to the throne. The acclaimed play is written in blank verse, resembling a modern Shakespearean play, and was adapted by BBC into a TV film in 2017.
While the central story arc focuses on the titular King as he struggles with Parliament after his rise to power, a particular subplot has been more attention-grabbing for viewers in recent years.
In the film, Prince Harry first appears as a bachelor unsure of his next steps and somewhat bewildered by the grief of losing his grandmother Queen Elizabeth.
Attempting to lift his spirits, Harry's friends introduce him to a "bonafide commoner", Jessica, played by Tamara Lawrence, who is evidently shocked that promises of meeting Prince Harry have actually come to fruition.
Rather than swooning over the Prince, Jessica immediately suggests Prince Harry is unhappy with his family life and position in the royal household, questioning: "It's a trap for you, isn't it?"
The two strike up a loving relationship, but soon, like almost every partner of a royal, Jessica finds herself in the public spotlight and plastered across newspaper headlines.
Prince Harry confronts his father, asking to step down and "cast off the princely burden of my birth" to which the King obliges.
Actors Tim Pigott-Smith, Oliver Chris and Richard Goulding appeared in both the play and the film, portraying King Charles, Prince William and Prince Harry respectively.
Goulding evidently carved out an acting niche for himself as he played the Prince once again in Channel 4's sitcom The Windsors.
Speaking to the Guardian, Bartlett described his play as a piece of "future history" as he watched his fictional writing start to resemble reality this last week.
He also admitted he got some "specifics" incorrect, as Harry did not end up with "a republican Londoner", regardless, the psychology behind the plot has remained somewhat true to life.
So much so that fans have taken to social media to share their surprise at the similarities now playing out in the world.
One Twitter user joked: "Anyone need the lottery numbers just ask Mike Bartlett."
Some have claimed the work will become "prophetic" while others hope reality will stray from Bartlett's plotlines.
Bartlett argued that in Charles' time as the longest serving heir to the throne he has voiced his steadfast opinion multiple times, which could be a hindrance for his reign as explored in the play.
The writer is also not the only person to have potentially predicted the Prince's stepping down, as the 2020 Channel 5 documentary revealed.
In the documentary, Prince Harry: The Troubled Prince, royal protection officer Ken Wharfe revealed an incident he overheard more than three decades ago.
Wharfe was travelling in the passenger seat of a car driven by Princess Diana whilst her two sons sat in the backseat.
The boys, aged four and six at the time, were having an argument when the Duke of Sussex made a seemingly off the cuff statement that shocked the rest of the passengers.
Wharf recalled the Prince saying: "William, one day you'll be king, I won't, it doesn't matter. Therefore I can do what I like."
Three decades later, and six years after the play premiered, Prince Harry and Meghan Markle revealed their plans to step down as senior royals to be financially independent and create a new life together.
King Charles III is available to rent or buy on Amazon Prime and can be streamed on BritBox.
Source: Read Full Article