Prince Harry 'doing his best to wreck' Coronation, claims Piers Morgan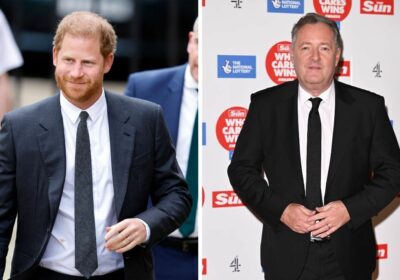 Piers Morgan has accused Prince Harry of "doing his best" to wreck King Charles's Coronation as he is back in court over phone hacking.
The Talk TV presenter took to Twitter for another royal rant about "hypocrite Harry".
Tweeting to his 8.4 million followers, Piers wrote: "As Prince Harry predictably does his best to wreck his father's Coronation with yet more privacy lawsuits & rants about the privacy-invading media, a reminder that the biggest, most ruthless invader of privacy in royal history – for gazillions of $$$$ –
is… Hypocrite Harry." (sic)
The tweet comes in response to Harry's lawsuit against News Group Newspapers. The case is one of three major cases that Prince Harry has made against tabloid newspapers, all alleging unlawful information gathering.
Piers Morgan's latest attack on Prince Harry claiming the Duke of Sussex was the biggest "ruthless invader of privacy in royal history", comes after the Duke and Duchess of Sussex's Netflix documentary, and Prince Harry's recent book – Spare.
It has since been confirmed that Harry will be attending the King's Coronation on Saturday May 6. The celebrations are expected to continue over the weekend and a performance at Windsor Castle on May 7.
The BBC is currently preparing technical equipment ahead of the live television broadcast, while scanners and checkpoints will be set up ready to screen the 2,000 guests who are attending Westminster Abbey.
The Coronation theatre and Coronation chair will remain in place when the Abbey reopens on May 8, with visitors who have booked timed tickets able to see the historic scene until May 13.
Don't miss…
Prince Harry's 'downfall' has seen him become a 'liability' to Meghan[LATEST]
Harry more like a 'reality TV star' than a royal[NEWS]
Camilla's son Tom 'couldn't bare' Harry's feud with Queen[INSIGHT]
In both of these releases, both Meghan and Harry made a series of bombshell revelations about their lives as members of the Royal Family.
Many of Piers' followers were quick to respond to his latest tweet about Harry, with some leaping to the prince's defence.
One user wrote: "I have a feeling that things seem to be closing in on some people and I don't think it's Harry."
Another commented: "It must be getting so exhausting for Harry."
However, others agreed with Piers. One user wrote: "Amazing, only complains about privacy when not getting paid." Another replied: "Well said Piers, absolutely spot on."
Source: Read Full Article