Pregnant Amy Schumer keeps posting puking videos: gross or understandable?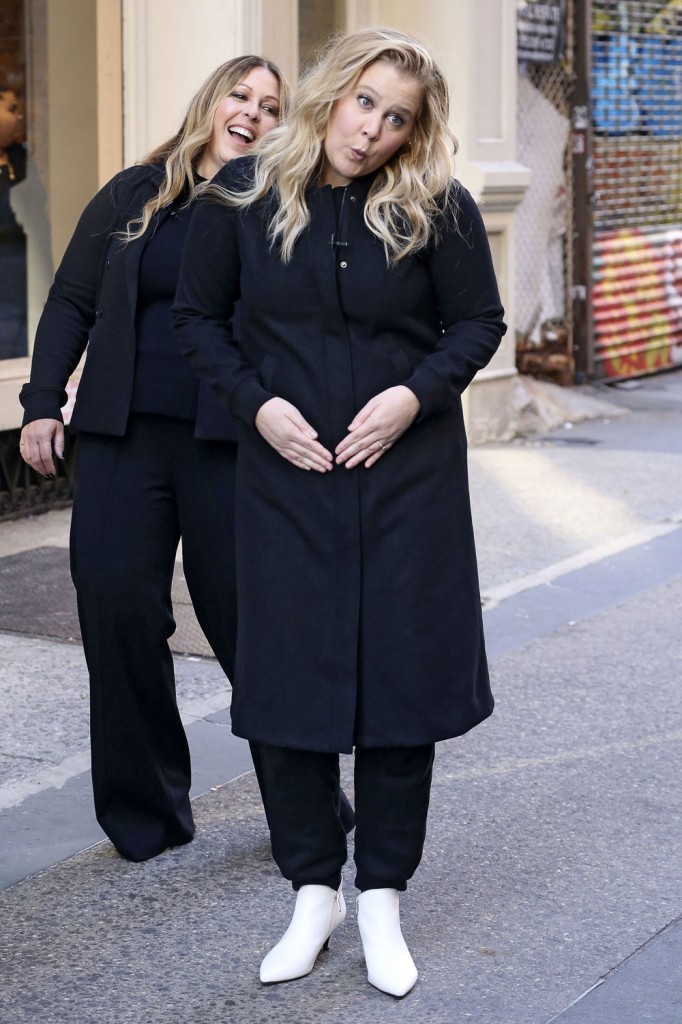 I'm one of those people who gets sick to my stomach when I see someone else getting sick. If it's in a movie and is obviously fake (e.g. that awesome Elijah Wood movie I Don't Feel At Home In This World Anymore) it doesn't bother me like a real video or worse, someone in person doing it. If I can smell it I might have to throw up too. So I got kind of pukey after seeing Amy Schumer's latest vomiting video and I'm still making that disgusted face grimace frown. If I wasn't writing about this I wouldn't have watched the video, where Amy brings us into a public bathroom when she does the deed. I'm posting it here because what the hell plus I want to spread the disgust, like that video from The Ring. Amy is in her second trimester of pregnancy and had to be hospitalized briefly about a month ago for hyperemesis, which is severe nausea in pregnancy and can be serious. She had to postpone some standup dates due to that, but she's also gone through with many, like the one she did an hour and a half after recording this video.
Deep in my second trimester and all i can say is nope! Yesterday i did a show 90 minutes later #soblessed #godsmiracle #lepainbathroom ?
This isn't even the first video Amy has posted where she's throwing up. On November 28, Amy posted a video where she's getting sick into a cup in the passenger seat of a car. That one was shot by a documentarian who is filming her for an upcoming special. She wrote that it was her response to racist Cindy Hyde-Smith winning her runoff victory in Mississippi so props for that. After that incident Amy went on to perform that night, but then she took time to rest and canceled some dates. She's back at it now though despite the fact that she's still getting sick.
When I was pregnant I only got sick the first trimester. I memorably threw up a little on the street when walking home after a romantic Valentine's Day dinner. It must suck to be sick like that throughout your entire pregnancy, I can't imagine what that's like. It's bad enough to deal with the acid reflux, the water retention, having to pee all the time and not being able to get comfortable when you're trying to sleep.
As for whether this is disgusting, yes it is. However a lot of women can relate, she's showing the reality of some pregnancies and I'm giving Amy a pass. She's trying to show fans who paid for tickets how bad she feels and yet she's still putting on shows. Plus she's probably one of those people who can watch other people throw up and not feel anything. I would say I envy those people because I wish I was like that, but I suspect they're just cold-hearted. (Don't @me I'm only stirring up sh-t.)
Also Amy is doing a clothing line for women of all sizes, it's called Le Cloud and launches at Saks Off Fifth in a few days. (Not an ad, I'm just giving specifics. Some of these photos are from an ad she shot for it at the end of October.) Unlike other celebrity clothing lines Amy does seem committed to providing options for all women, and not just doing it for marketing purposes. They have solid dark color basics and I would wear the clothing. I try to mix it up but I usually end up wearing black and grey separates.
A post shared by @amyschumer on
How cute is Amy with her dad?
☠️
Food ready yet?
Source: Read Full Article