Piers Morgan's wife requests 'hall pass' after sharing bed with actor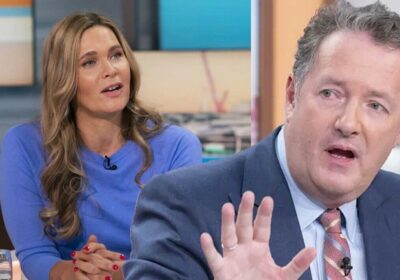 We use your sign-up to provide content in ways you've consented to and to improve our understanding of you. This may include adverts from us and 3rd parties based on our understanding. You can unsubscribe at any time. More info
Piers Morgan, 57, has been married to Celia Walden, 47, since 2010, with the couple sharing one daughter together. Celia left much room for comment today as she took to Instagram to ask for a "hall pass", alongside a cheeky bedroom selfie with Hollywood actor Rupert Everett.
In bed with Rupert Everett! 

Celia Walden
Celia took to Instagram in view of her 53,400 followers to surprise fans with the snap, featuring the handsome My Best Friend's Wedding star.
She could be seen smiling with her head down on the pillow beside Rupert, who smiled for the camera as she shared an insight into their "good pillow talk".
Celia captioned the post: "In bed with Rupert Everett. And let me just say this: the man has good pillow talk. Full interview in tomorrow's @telegraph."
Many social media users rushed to the comments to question what her husband Piers would think of the snap.
Jon_lawrenceoffical said: "I'm telling Piers."
Celia replied: "I think I need a hall pass…."
Piers is yet to respond to the picture of his wife and Rupert in bed together.
The couple often keep their relationship private, however, Celia did previously open up about their six-week marriage sabbatical.
Piers and Celia took some time away from each other after spending so much time in one another's company in 2020 during the coronavirus pandemic.
Speaking on ITV's Lorraine last year, Celia told host Christine Lampard about how beneficial their time away from each other was.
She said: "It was very good for both of us but we didn't have any problems before."
"It was nothing like that, but it's been a long pandemic hasn't it."
Celia first opened up about the decision in her column, with the journalist sharing her reasoning for being so open.
She said: "I described it in the piece as like rebooting your computer, where sometimes, it's not that there's anything in particular that's wrong, but it grinds to a bit of a halt, and you reboot it and suddenly it comes back to life.
"We had just over five weeks apart over the summer, and to be fair, it was sort of work-necessitated because Piers was interviewing serial killers, which he found preferable to being married to me, and I was working in LA, so he was all over.
"We did the message, we didn't have many phone calls, but we did the message, and I just found it so exciting when we saw each other again, it felt like the early days of our marriage or even the early days of dating and I loved that."
However, Celia told ITV viewers to opt against doing a sabbatical as it "doesn't make the heart grow fonder".
She admitted: "If you have any problem with your marriage, don't do it.
"It doesn't always make the heart grow fonder, does it, if you're in a perilous place for whatever reason."
Celia married the TalkTV host in a private ceremony in Swinbrook, Oxfordshire, on June 24 2010.
A year later, the couple welcomed their first child together, Elise Pughe-Morgan, now 11 years old.
You can watch Piers Morgan on his TalkTV show, Piers Morgan Uncensored, at 7pm
Source: Read Full Article