Piers Morgan claims Prince Harry will betray vow to Queen with book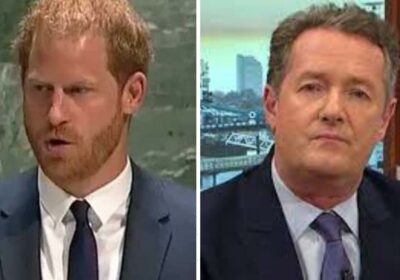 Queen Elizabeth II: Piers Morgan pays tribute to the monarch
We use your sign-up to provide content in ways you've consented to and to improve our understanding of you. This may include adverts from us and 3rd parties based on our understanding. You can unsubscribe at any time. More info
Piers Morgan, 57, has claimed Prince Harry, 37, would effectively be betraying the trust of his grandmother, the late Queen Elizabeth II, should he release his "salacious" new book. The TalkTV presenter has claimed the book, which the Duke of Sussex has jointly written with Meghan Markle, would "rip into the Royals".
He fumed: "If Harry goes ahead with this horribly ill-advised book, he will betray his pledge to his grandmother."
The book, with a prospective release date of November, according to the Duke of Sussex, will be a "first hand" account of his life.
Piers, in a recent column for the New York Post written following The Queen's death, slammed the forthcoming book in scathing terms.
"He's written a supposed 'tell-all' book due to be published later this year or early next.
"He will reportedly rip into the royals yet again in what Harry says will be a 'first-hand account of my life that's accurate and wholly truthful'.
"Is that the same kind of 'accurate and wholly truthful' garbage that he and Meghan spewed to Oprah, much of which has since been proved to be utter nonsense?" Piers questioned.
Piers added that one of King Charles III's aides told him that the palace was dreading the release of the new tell-all.
In the column, Piers said they fear it will "drip" with poisonous new allegations about the Royal Family.
"Any such attack, coming from the new monarch's own son, will thus be devastating," Piers insisted.
In March 2021, Piers said farewell to Good Morning Britain over an argument about Prince Harry's wife Meghan.
The presenter had worked there for six years.
However, he was forced to leave after thousands of complaints about his controversial views on Meghan, implying she had lied about her confessions during the couple's Oprah Winfrey interview.
Last week, following the news of Queen Elizabeth's death at 96, Piers paid tribute to the former monarch.
Piers described her as "dignified, humble, wise, stoic, and dedicated to duty and service to the country she loved" on Twitter.
He added she was the "greatest monarch in history and the greatest of Britons".
During last week's instalment of Uncensored on TalkTV, the host slammed the Duchess of Sussex for returning back to the country, as he questioned her return.
The presenter accused Meghan of "double standards".
Meghan and Harry had been briefly back in the UK on a tour visiting multiple different charities, before the death of the Queen.
However, Piers said they were doing the usual thing by "whinging, moaning, preaching about equality and poverty".
Piers said: "My thing is, what are they doing here?"
Source: Read Full Article