Piers Morgan addresses 'pointless and awkward' interview with jet-ski couple on GMB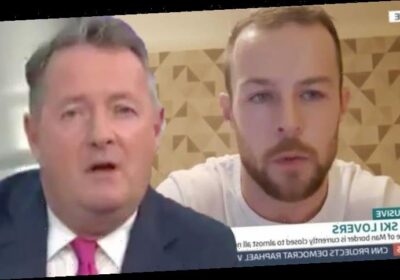 GMB: 'Jet-Ski Romeo' discusses his trip to Isle of Man
Piers Morgan, 55, replied to a GMB fan in view of his 7.7 million followers, after they questioned the "point" of interviewing a couple who broke COVID laws to be with each other. The Good Morning Britain host appeared to agree with them and admitted that even he doubts the longevity of the couple's romance, after they bemoaned being apart from one another due to ongoing government restrictions.
I'm not sure

Piers Morgan
The viewer typed to Piers on Twitter: "That was the most pointless and awkward interview I've seen #goodmorningbritain @piersmorgan."
Piers quipped back: "Yes, I'm not sure Cupid's bow is going to last long with those two…."
The latest instalment saw Piers and his co-host Susanna Reid speak to "The 'Jet-Ski Romeo" Dale McLaughlan, who made a four-hour crossing from Scotland to the Isle of Man to see his girlfriend Jessica Radcliffe.
He was arrested and sentenced to four weeks in jail for breaking anti-COVID rules.
We will use your email address only for sending you newsletters. Please see our Privacy Notice for details of your data protection rights.
Dale revealed to Piers and Susanna that he had initially applied to visit the Isle Of Man legally, but had been denied entry.
He said "I pleaded with them, I told them I would do everything possible, anything they required of me. Whether that be an extended isolation, or any COVID test."
However, he did not hear back from anyone, so he decided to take the law into his own hands and set off on his journey to visit Jessica on a jet-ski.
Dale continued: "I didn't even get a reply in an email. At that point, I said I have got to take matters into my own hands."
He went on to justify his actions by saying that other people had broken coronavirus laws for more trivial reasons.
"Everybody else is breaking it. For terrible reasons when they go out drinking and partying. I wanted to do it for the person I love," he added.
Susanna interjected: "Let's go back a couple of months, because this is about being separated from somebody you clearly care very much about.
"But you haven't known each other long, have you? Remind us when you first set eyes on Jessica, and what it is about her that led you to break the law and end up with a prison sentence."
DONT MISS:
Lorraine Kelly explains why she isn't wearing wedding ring (PHOTOS)
Dianne Buswell doesn't talk about getting married with Joe Sugg (NEWS)
Holly Willoughby missing from This Morning as Rochelle Humes steps in (LATEST)
Dale explained that he and Jessica met in a pub last year and fell in love quickly, after he found her personality "just phenomenal".
He shared: "Well we first met in a pub in Douglas in September, I just thought she was beautiful, amazing and then when I got to talk to her, I realised her personality was just phenomenal.
"She's always got something funny to say, keeps me on my toes."
Despite only spending a week with Jessica last Autumn, Dale said he happily risked his life for love.
Jessica admitted she was in disbelief after discovering Dale had spent four hours on a jet-ski before having to walk 15 miles to see her.
She believed it to be "true love" for the pair, however, some viewers on social media seemed unsure.
One said: "Good god if a guy I had spent less than a week with had gone to the lengths this Romeo plonker did just to see me, it would be me calling the police. Seriously find this so cringy and a little bit creepy, to be honest."
A second agreed: "Romantic gesture or red flag? For some reason, this behaviour gives me the creeps. Run lass!"
However, someone else claimed: "This is disgusting that an average man is treated like this when prem footballers are caught breaking rules and get away scot-free. Prem footballers should be fined heavily and the fines are paid into the NHS."
A fourth said: "People do worse things and escape Prison."
Good Morning Britain airs weekdays at 6am on ITV.
Source: Read Full Article