'Peacemaker' Spinoff Series 'Waller' With Viola Davis A Go, 'Doom Patrol' Creator Jeremy Carver Joins As Scribe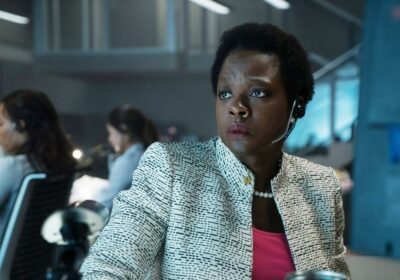 Far from a surprise, DC co-Chairmen and CEOs James Gunn and Peter Safran confirmed that Waller, the spinoff of their Suicide Squad HBO Max series Peacemaker, was one of the first TV shows they'll be hatching under their new DC universe, Chapter One, "Gods and Monsters".
Related Story
James Gunn & Peter Safran Unveil Big DC Plan With New Movies For Batman & Robin, 'Swamp Thing', 'The Authority'; 'Lanterns' TV Series & More
The series centers around the mercurial and political Amanda Waller, played by Oscar winner Viola Davis, who is a senior civil servant and director of A.R.G.U.S. She established the Suicide Squad, in her quest to assemble a team of expendable metahumans who would be used to execute covert operations against dangerous threats. While it had already been out there that Watchmen EP Christal Henry would be writing and executive producing, Gunn and Safran announced that Doom Patrol creator Jeremy Carver is also joining her to write Waller.
RELATED: DC Bosses "Didn't Fire" Henry Cavill; Talk Fate Of Robert Pattinson, Gal Gadot, Jason Momoa, Filmmakers & More In New Universe
"We're using the same actors, this is a continuation of Peacemaker. I'm working on Superman, so we can't do Peacemaker season 2. We're working on Waller in between," Gunn told the press in the unveiling of his DCU Chapter One.
While none of the movies planned, i.e. the edgy Batman and Robin title The Brave and the Bold aren't rated R, the TV series could lean into being more adult.
Other TV series announced as part of DCU Chapter One included the animation series Creature Commandos, penned by Gunn, the True Detective-like Lanterns, an all-female Game of Thrones-type series Paradise Lost set on Wonder Woman's planet of Themyscira, and Booster Gold which follows a loser guy from the future, who comes back to present day and pretends to be a superhero.
RELATED: 'The Batman II', James Gunn's 'Superman: Legacy' Get Release Dates As DC Plan Revealed
In regards to former DC TV architect Greg Berlanti, the co-DC bosses said yesterday that they don't have any shows in development with the Warner Bros TV producer who just inked a new four year exclusive deal with the Burbank lot. In regards to old DC shows that would keep chugging along, Gunn and Safran were under the impression yesterday that the Berlanti-co-created Superman & Lois had two more seasons under its belt.
Must Read Stories
Michael Jackson's Nephew Jaafar Jackson To Play King Of Pop In Biopic
3-For-3 In Weekly Audience Growth; Episode Recap; Classic Ronstadt Song Pops
Shah Rukh Khan's 'Pathaan' Makes History For Bollywood & India Around Globe
Network Rebrands As Paramount+ With Showtime; Two Rookie Dramas Canceled
Read More About:
Source: Read Full Article