Paul Young opens up about 'difficult' period following death of wife Stacey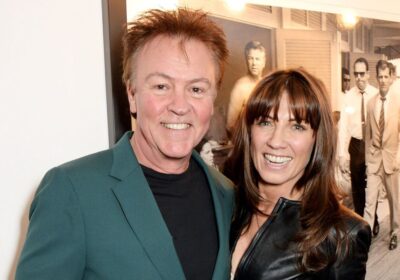 GMB: Paul Young opens up about his stammer
1980s heartthrob Paul Young has released his first solo album in seven years, Behind The Lens, and his first since the death of his beloved wife, Stacey Smith.
Paul, 67, married Stacey, a model, in 1987 after meeting four years earlier on the set of his music video for Come Back and Stay.
They had three children: daughters Levi, 36, Layla, 29, and son Grady, 27.
Paul and Stacey briefly split in 2006. During that time, she had a son, Jude, with businessman Ilan Slazenger.  
They reconciled in 2009 and Stacey was tragically diagnosed with brain cancer seven years later. Sadly, she lost her fight and died in 2018.
READ MORE: Strictly Come Dancing's Nancy Xu admits she 'didn't feel a thing' after injury
Soon after, the country was put into lockdown when the Covid pandemic hit. While Paul found the period "difficult", he says it enabled him to put together material for his new album.
The Everytime You Go Away singer told Express.co.uk: "I found it to be difficult to begin with because you felt quite insulated. But in the end, it was good because it gave me a chance to look back at other projects I'd done and realise I'd been overly hard on myself when a lot of the stuff I had was very good.  
"The songs are a collection of songs that were written over the years. In lockdown, I couldn't do any new recordings so I had a look at the experiments I'd done over the years.  
"I'd worked with the last band who played with Robert Palmer and I did some recordings with them, I also did songwriting in Nashville and so I got those demos.  
"Once I'd picked all my favourites of all the projects I had done, there was enough for an album."
Don't miss…
Paris Fury addresses turning down major ITV show days after giving birth[LATEST]
Vile trolls edit Sir Michael Gambon's Wikipedia page minutes after his death[NEWS]
Alex Beresford's childhood trauma as he was rushed to hospital on Christmas Day[INSIGHT]
We use your sign-up to provide content in ways you've consented to and to improve our understanding of you. This may include adverts from us and 3rd parties based on our understanding. You can unsubscribe at any time. More info
While Paul is currently travelling the country with his solo Behind The Lens gigs, he is also gearing up to return to the stage with his Tex-Mex band, Los Pacaminos.
The band, formed in 1992, will kick off their sell-out gigs on November 17 in London before visiting the likes of Leeds, Southampton and Edinburgh, to name a few.
However, to add to Paul's heartbreak, the band lost their long-running member, Matt Irving, in 2016.
Reflecting on their performances without him, Paul continued: "A lot of time has passed. We couldn't do without an accordion player so, as much as we miss Matt, we've got another great guy in the band with a great sense of humour."
Looking back at the origins of Los Pacaminos, Paul explained that his love of Tex-Mex music began in the mid-1970s when he was influenced by guitarist Ry Cooder.
He explained: "[Ry] changed his band so almost half of them were Mexican and it changed the sound of what he was doing and there was a different flavour.  
"I looked into that and I started to get into Mexican music from there. We started [Los Pacaminos] for fun and I was trying to do something whereby it wouldn't take me long to be able to get the flavour and sound."
As for what fans can expect from the upcoming tour, Paul teased a "dance flavour" and plenty of humour.
He mused: "I think it is the kind of music that you can identify with if you are above a certain age and still make mistakes in love and life. We say, 'I'm never going to make that mistake again', and then we go diving into the next part of our life, and make them all over again."
You can find out more about Paul's solo tour here, and his gigs with Los Pacaminos here.
Source: Read Full Article