Pamela Anderson Persuaded World Leaders to Change Laws With 'Kiss on the Cheek'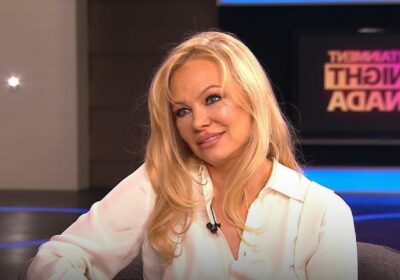 The former 'Baywatch' bombshell claims she only needed to give top politicians 'a kiss on the cheek and an autograph' to get them to change the laws in their countries.
AceShowbiz –Pamela Anderson has revealed world leaders wanted "a kiss on the cheek" in exchange for the laws she wanted changing. The former Playboy model – who has sons Dylan, 25, and Brandon, 26, with ex-husband Tommy Lee – famously convinced Russian President Vladimir Putin to stop the importation of seal products and also got ships carrying fin whale meat banned from the country.
The PETA spokesperson has also talked to many politicians over the years and used her celebrity status to advocate for causes close to her heart. "When I first started getting a lot of attention, I thought, 'I have to share this attention with something meaningful,' " she said to OK! magazine to promote her documentary "Pamela, A Love Story".
"That's when I started talking to PETA and all these activist groups. I thought to myself, 'I get a lot of attention, but it just seems so superficial.' So I used it to my advantage. I would go and speak to world leaders. They wanted a kiss on the cheek and an autograph. I wanted laws to be changed. And we both got what we wanted."
Pamela previously claimed she turned down Putin's offer to bring him flowers to his inauguration. She told "Piers Morgan's Life Stories" in 2018, "He wanted me to come to his inauguration and give him flowers … I didn't do that. Obviously, we have been in the same place together sometimes … I had a great relationship with Russia."
Meanwhile, Pamela has landed a new plant-based cooking show on Food Network Canada. The 55-year-old star will front the series "Pamela's Cooking With Love" – a working title – which has been commissioned by Corus Studios and will see her team up with top level chefs at her home in Canada as they work on a variety of plant-based meals and menus while the studio has also greenlit a second series of "Pamela's Garden of Eden" as she renovates her family's Vancouver Island property.
She said in a statement, "Creating elegant and inviting spaces that inspire a compassionate, calm and healthy environment has always been important to me and comes naturally. Corus Studios and I have set mutual goals with good intentions. It's been a learning curve – and I am confident they will be a positive partner in helping bring my true vision to life."
You can share this post!
Source: Read Full Article