Nipsey Hussle's Friend Still Wants Answers After Eric Holder's Found Guilty of Murder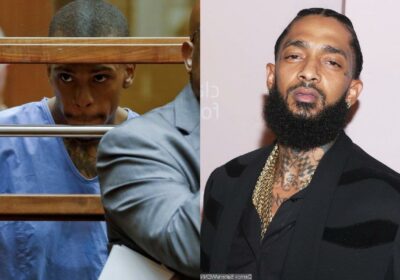 Meanwhile, Eric's attorney says he's 'deeply' disappointed in the first degree murder verdict though the jury acquitted his client of two counts of attempted first-degree murder.
AceShowbiz -Eric Ronald Holder Jr. has been officially declared responsible for the death of Nipsey Hussle. The 32-year-old has been found guilty in the shooting death of the Los Angeles rapper back in March 31, 2019.
The verdict was revealed on Wednesday, July 6 after the jury deliberated for about six hours. Eric was found guilty of first degree murder for killing Nipsey. Eric also shot two other people during the murder, for which he was found guilty of two counts of attempted voluntary manslaughter, guilty of two counts of assault with a firearm and guilty of possession of a firearm by a felon. He was found not guilty of two counts of attempted first-degree murder.
Following the verdict, Herman "Cowboy" Douglas, a friend of Nipsey, said he still wanted answers on why his friend was shot. "It was so senseless, why?" he asked. He claimed that the late artist never called Eric a snitch, adding that the conversation between Nipsey and Eric "never got heated" that fateful day.
"I'm just sad, I miss my friend. He's supposed to be here, he's supposed to still be here. He was the underdog that made it," said Herman, who testified during the trial. "I don't wish death on people," he said of Eric. "Give us some closure, let us know why."
Meanwhile, Eric's attorney Aaron Jansen said he's "deeply" disappointed in the first degree murder verdict. He told CNN in a statement, "I am deeply disappointment in the first degree murder verdict. It was always going to be a tough given the high profile circumstances surrounding the case. We are grateful that the jury agreed with us, in part, that the case was overcharged and acquitted Mr. Holder, Jr. of the two attempted murder charges."
Eric is scheduled to be sentenced on September 15. His attorney said they plan to appeal.
During closing arguments last week, Aaron claimed that the shooting was spurred by anger after Nipsey called Eric a snitch. "We told you that Mr. Holder Jr. did shoot Mr. Asghedom," he argued, asking jurors to consider lesser charges. "We told you it was voluntary manslaughter and that he acted in a heat of passion. And we told you what that heat of passion that he acted on consisted of — it consisted of being called publicly a snitch by someone as famous as Nipsey Hussle and we believe that is what the evidence showed."
But prosecutor John McKinney begged to differ, saying that Eric was not consumed by rage that day and that the shooting was calculated and premeditated. "We have a step by step methodically carried out plan to return to that parking lot and kill. It's not done in the heat of passion, in fact, it's done 10 minutes after the conversation, in fact it's done after he shakes Nipsey Hussle's hand," he said.
In late June, Eric was beaten up by fellow inmates in jail. He was punched and cut with a razor by two inmates while waiting in a holding cell to come to court for a trial on Tuesday, June 28. As a result of the attack, the trial scheduled for that day was delayed to the next day. When he showed up in court on Wednesday, Eric sported a swollen face and staples in the back of his head.
Source: Read Full Article