Natalee Holloway Murder Suspect Joran van der Sloot Finally Confesses – Nearly 20 Years Later!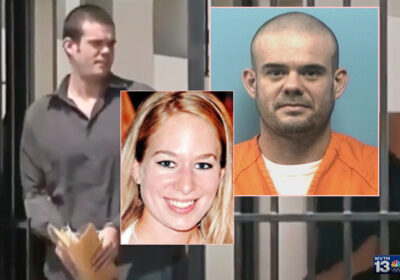 Joran van der Sloot has officially admitted to killing Natalee Holloway.
All the way back in 2005, the Alabama teen went on a high school graduation trip to Aruba with friends — but sadly, she never returned. For nearly 20 years, the Holloway family has had a lack of answers while suffering an insurmountable loss. But FINALLY on Wednesday, they got some clarity.
According to a filing from Wednesday's hearing, Joran finally admitted in court to killing Natalee. Her mother Beth confirmed the news to reporters outside the Birmingham, Alabama courthouse the same day, revealing:
"Joran van der Sloot is no longer the suspect in my daughter's murder. He is the killer."
She added that "he gave a proffer," which is where a defendant offers proof as part of their plea deal, "in which he finally confessed to killing Natalee." We can't even begin to imagine the sort of emotions she's experiencing right now.
Van der Sloot also pleaded guilty to extorting and defrauding the Holloways, after initially being charged in 2010 for attempting to extort $250k in exchange for information about the whereabouts of Natalee's remains, which were never found. He was extradited to the US in June from Peru, where he had been serving a 28-year sentence after pleading guilty in 2012 to ALSO killing 21-year-old college student Stephany Flores.
Judge Anna Manasco said in the hearing, according to court docs:
"I have considered your confession to the brutal murder of Natalee Holloway. You have brutally murdered in separate incidents years apart two beautiful women who refused your sexual advances."
Following the hearing, Van der Sloot was sentenced to 20 years in prison, which will run concurrently with his 28-year Peru sentence.
Beth told reporters of the breakthrough in the case:
"He said that after killing her on the beach in Aruba, he put her into the water and that was the last that he ever saw her. He said that after killing her on the beach in Aruba, he put her into the water and that was the last that he ever saw her."
She shared that she's "overcome with mixed emotions," adding in a statement:
"I am hopeful that some small semblance of justice may finally be realized, even though no act of justice will heal the pain we've endured."
Natalee's father Dave called the legal decision "an important step toward accountability and hopefully, justice." See more (below):
Wow. Finally after nearly two decades this poor family can hopefully sleep a little bit more sound after seeing justice brought to their little girl's murderer. Our hearts are with the them right now.
Source: Read Full Article