Naga Munchetty issues warning as guest interrupts her in error: 'Be careful what you say!'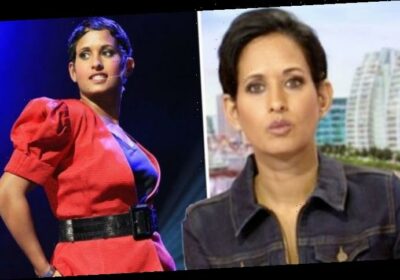 Denise van Outen leaves interview to grab laptop charger
When you subscribe we will use the information you provide to send you these newsletters.Sometimes they'll include recommendations for other related newsletters or services we offer.Our Privacy Notice explains more about how we use your data, and your rights.You can unsubscribe at any time.
BBC Breakfast presenter Naga Munchetty, 46, had to step in and issue a warning to her BBC Radio 5 Live guests Denise van Outen, 46, and Tamzin Outhwaite, 50, after the duo suffered an on-air blunder. Naga was chatting to the duo about their brand new film adaptation of Denise's one-woman play, Some Girl I Used To Know when they encountered a technical issue on their video call.
The BBC favourite was quick to tell Tamzin to "be careful" about what she said, as she admitted the entertaining mishap could be included within the broadcast.
It came after Denise was forced to interrupt Naga while she was chatting to Tamzin about how theatre has fared during lockdown.
The actress informed the host that she needed to rush off to grab her charger for her laptop, as it was "about to die" during their interview.
Tamzin was saying at the time: "We kind of feel like we owe it to theatre because that's where we started.
READ MORE… Gogglebox: Nasreen Siddiqui on why she refuses to appear on C4 show
"To be working during this pandemic must be a blessing, it hasn't all been plain sailing."
Denise then suddenly interjected when Naga began to quiz Tamzin further on the subject: "Just to interrupt really quickly, sorry, I've got to get a charger for this laptop because it's about to die!
"Wait two seconds, I'm just going to plug it in.
"I didn't want to interrupt Tamzin, but I have to go and grab it – one second!"
Seeing the funny side of the situation, Tamzin quipped: "I thought she was going to say, 'Sorry, I need a wee!'"
Naga then warned: "That could happen as well!
"Be careful what you say because we might keep all this in, because it's fun!
"This is the reality of Zoom calls and interviews."
DON'T MISS:
Eamonn Holmes opens up on health battle 'I'm determined to beat this' [HEALTH UPDATE]
Kirstie Allsopp defended Brexiteers after 'idiots and bigots' snub [COMMENT]
Jeremy Clarkson hits out at "ridiculous" National Trust investigation [OPINION]
"This is the interesting stuff," the former EastEnders actress agreed.
Naga continued: "This is the stuff behind the scenes isn't it?
"Denise, are you in there yet? She's still getting her cable," the presenter explained to listeners.
Fortunately, the rest of the interview went off without a hitch and Naga revealed she found the technical problems funny.
The BBC favourite concluded their chat by saying: "Listen, both of you, thank you so much for all the technical problems and everything!
"It's been really delightful talking to you both."
Apologies, apologies," Denise giggled in response.
Naga replied: "No, not at all, it's real life and do take care and good luck with this, thank you!"
Source: Read Full Article