Naga Munchetty and Vicky Pattison speak out over NHS' dismissal of painful womb conditions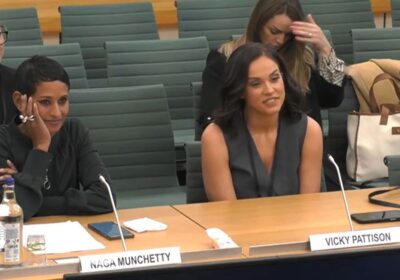 BBC Breakfast frontwoman Naga Munchetty has opened up on the agonising pain she has suffered for the last 32 years, after her little-known womb condition was dismissed by doctors.
The much-loved newsreader, 48, suffers from a condition known medically as adenomyosis – something that has left her screaming in agony at several various points during her life, with the only option being to call an ambulance.
Speaking to MPs today, Naga recalled being repeatedly instructed by doctors and health professionals to "suck it up", them being unwilling to further investigate her often debilitating condition, which she has suffered since the age of 15.
Appearing before the Women and Equalities Committee as part of its inquiry into women's reproductive health, the BBC favourite revealed that her condition has left her "almost paranoid about when you take a toilet break".
She explained that, when on her period, she feels forced to wear dark, loose clothing, and has to alert the BBC Breakfast crew on air when she requires bathroom breaks.
"I started my period at 15," Naga recalled. "It would last for 11 or 12 days. Eight or nine of them were very heavy. I'd throw up on the first day, pass out once or twice during the cycle. I'd be wrapped around a toilet.
"I'd still go to school. I still went to work. Whenever I went to the doctor I was told it was normal."
She also revealed she was forced to seek out private healthcare after failing to receive care for the condition – which is believed to affect around 1 in 10 women – on the NHS.
Naga added that she was often told by doctors that "everyone goes through this", with these comments being "especially" prevalent in "male doctors who've never experienced a period".
The newscaster appeared before MPs beside Geordie Shore star Vicky Pattison, who was diagnosed with pre-menstrual dysphoric disorder (PMDD) a couple of years ago, after she consistently tried to get treatment for gynaecological issues in her 20s.
Vicky, 35, recalled faced extreme symptoms of menstrual issues in her younger years, including "crippling anxiety", insomnia and fatigue, but they were put down to PMS (pre-menstrual syndrome) when she visited various doctors across the country.
"I was always told exactly the same thing: 'This is PMS. This is what women go through. Every other woman in the world is dealing with this'," she recalled, claiming this made her feel "even more invalidated".
Recalling wondering if she just needed to just "get on with" her health issues, Vicky questioned whether "the world would be better without us in it".
"I can't tell you how many times I got told, 'They'll (symptoms) get worse as you get older, this is just natural'," the reality star explained. "And you believe it. You absolutely believe it and you believe that you're weak, that you can't cope with what every other woman is coping with."
Like Naga, Vicky decided to go for private healthcare this year "after feeling ignored and invalidated by the NHS" and said she "could've kicked myself for taking so long" as she was immediately diagnosed with PMDD.
"I felt like I was wasting the NHS's time," she said. "That's how I got to. And when I eventually was paying to see somebody, I felt like I had more of a right to sit there and speak. And that's mental.
"Like, that's not right, you know, so no, I felt stupid and ashamed and like I was wasting everybody's time and I felt weak."
Source: Read Full Article