MTV Alum Connor Smith On The Run After Allegedly Attempting To Meet A CHILD For Sex!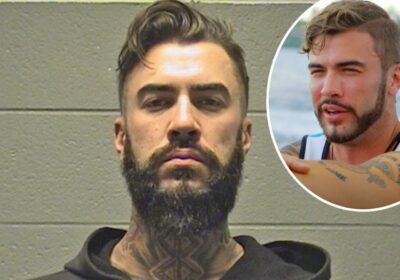 Connor Smith is wanted by authorities after fleeing a police setup.
An arrest warrant has been issued for the 32-year-old in his home state of Illinois after he was accused of attempting to engage in sexual acts with someone he thought was a girl under the age of 15. According to the Lake County Sheriff's Office, the reality star interacted with a who he believed was a juvenile girl online for "several weeks," allegedly sending sexually explicit photos and videos… But the recipient was secretly an undercover detective the whole time.
Last Thursday, Connor, who appeared on MTV's Are You The One back in 2015, traveled to Lake County to meet up with the minor — driving right into a police setup. Unfortunately, when authorities attempted to approach his vehicle, he sped away and managed to successfully escape the sting operation. The following day, an arrest warrant was officially obtained by the LCSO — felony charges of traveling to meet a minor, grooming, and disseminating harmful material.
Deputy Chief Christopher Covelli of the LCSO explained in a statement: 
"It's a nationwide warrant. He can be arrested anywhere in the country. He'll be extradited back to Lake County to face the charges."
In the following days, Smith's attorney informed police the suspect would turn himself in, but as of now that has still not happened. Covelli noted: 
"We do believe he is actively evading apprehension and trying not to be taken into police custody."
The LCSO is now asking the public for any help in locating the criminal, noting he may have changed his appearance by shaving his beard or changing his hair. However, he has distinct tattoos on his neck, which you can see in the above photo, and as of last week drove a black pickup truck with text and phone numbers on the side. Covelli added of the crimes:
"We consider that to be a very, very serious charge. We certainly don't want any children out there at risk and that's why we're asking for the public's help."
If captured, Smith will be held on a one-million dollar bond. Here's video of the fugitive, in case it helps to ID his voice: 
This is not the first time Smith has been wrapped up in a case involving a minor, as he was arrested back in late 2021 after being accused of the brutal rape of a 16-year-old girl in Indiana — whom he also met online. You can read all the details HERE, but be advised, they are extremely graphic.
We hope he will be captured soon, and full justice is served so he can never attempt to harm another minor again.
Thoughts? Let us know in the comments down below.
Source: Read Full Article