Molly-Mae Hague has 'breakdown' during emotional call with Tommy Fury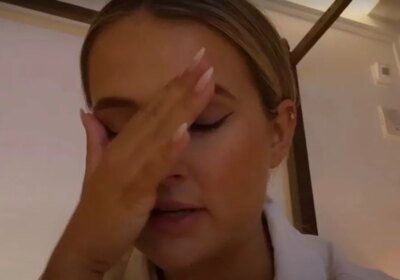 Molly-Mae Hague has revealed she had a 'breakdown' after becoming overwhelmed with emotion during a recent work trip to New York.
The Love Island star, 24, flew out to the Big Apple in August to do a photo shoot for her latest collection of clothes with the fast fashion brand Pretty Little Thing.
As the YouTuber gave fans an insight into her trip by uploading a video of her vlogging, at one point in her video, she confessed she had been 'crying' due to having a 'meltdown' after a call with fiancé Tommy Fury.
The Filter tan founder explained to viewers that she had cried due to 'missing her daughter Bambi' and not feeling like she looked her best.
Speaking to the camera in her hotel robe, she said: "I had a bit of a meltdown, as you do.
"I tried to make a bit of an effort tonight and tried to look nice and feel nice, and spend a bit of time doing my make-up and my hair.
"And as just still felt – as women – and I'm sure guys get this too, you sometimes just don't feel nice even when you make an effort."
She continued: "Then I was on the phone to Tommy and talking about Bambi and I was just getting upset.
"Then I feel like suddenly, all at once, everything came on top of me. I had a bit of a breakdown just before we went out. Some tears were shed, and I had a bit of a moment, which was weird because I was literally feeling fine all day.
"Maybe it's everything, the jet lag and eating rubbish food and missing Bambi so much and really trying not to think about it too much.
"And the moment you do and just stop, it all hits you."
It comes as Molly, who welcomed baby Bambi with Tommy Fury in January, opened up about how the boxer had to move out of their home for two months to live in a training camp.
As the brother of Tyson Fury, Tommy, 24, prepares to fight KSI later this month, Molly admitted that she was 'sad' to see him 'move out for a long time.'
Speaking in a YouTube video, she said: "Today is a little bit of a sad day in a way as Tommy has gone into his official camp today."
Molly added: "He's basically been in camp for the last few weeks, but he's gone into his camp where he has essentially moved out of the house for a long time actually."
She continued on her latest YouTube channel: "He's done a couple of each now, some training camps where he's staying at home, and before Bambi, that was okay because I guess I was the only distraction.
"I was the only thing that would make him soft and take him out of that boxer's mindset.
"It's probably going to be about two months that we're not living together; that's just the way a training camp is."
Source: Read Full Article