Miriam Margolyes pays tribute to Matthew Perry after sharing 'regret' over TV moment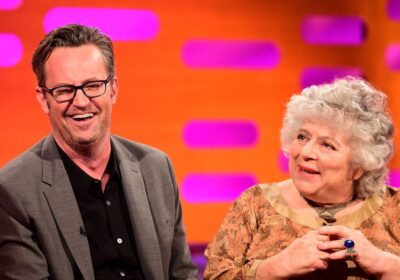 Miriam Margolyes has paid tribute to Matthew Perry following the Friends star's tragic death on 28 October at his home in Los Angeles.
The Harry Potter actress, 82, is one of the latest celebrities to pen a tribute to the late 54 year old actor, who was famed for portraying Chandler Bing in the hit US sitcom.
Taking to X, formerly known as Twitter, Miriam posted a clip of an episode of the Graham Norton Show which she appeared on alongside Matthew and Gemma Arterton, and penned: "RIP Matthew Perry. You will be missed by so many. A great man."
In the clip, Miriam can be seen sitting in between Matthew and Gemma as she recalled her encounter with actor and director Laurence Olivier.
"I used to collect autographs at the stage door and he came out and I remember so distinctly that I started to cream in my knickers. I could feel…" the actress said as the crowd burst into laughter.
Miriam asked Gemma if she knew what she meant and she replied yes, to which Matthew added: "I honestly don't think I've ever been more uncomfortable in my life."
In Miriam's memoir she recalled meeting Matthew on the chat show, writing: "Matthew was expecting a bland conversation that stayed on the surface of things, but I was warming to my theme and immediately launched in, burrowing deeper."
She went on to admit she regrets asking Matthew "if he was an alcoholic", before admitting that the episode of the Graham Norton Show "was one of the few times" she "didn't quite 'mesh' with another guest" on a chat show.
News of Matthew's tragic death broke on 28 October after he was found unresponsive in his hot tub at his home in Los Angeles. Law enforcement said 911 dispatched responders at around 4:00 p.m. PST due to a report of cardiac arrest.
When they arrived on the scene, they began water rescue protocol after Matthew had seemingly drowned. At the time, it was reported that there were no illegal drugs on the scene and cops did not suspect any foul play.
Dozens of famous faces have paid tribute to the iconic actor, including his Friends co-stars – Jennifer Aniston, Matt LeBlanc, Courteney Cox, David Schwimmer and Lisa Kudrow – who released a joint statement on Monday.
The statement, shared with People, said: "We are all so utterly devastated by the loss of Matthew. We were more than just cast mates. We are a family. There is so much to say, but right now we're going to take a moment to grieve and process this unfathomable loss."
They added: "In time we will say more, as and when we are able. For now, our thoughts and our love are with Matty's family, his friends, and everyone who loved him around the world."
Source: Read Full Article