'Midnight in the Switchgrass' Star Emile Hirsch Responds to MGK Calling the Movie "Trash"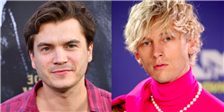 Annnnd the Midnight in the Switchgrass drama continues. In case you haven't been following this whole…thing…here, a brief recap:
Which pretty much brings us up to date / to fellow Midnight in the Switchgrass star Emile Hirsch responding to MGK. Emile went ahead and hopped on Instagram with a screen grab of MGK's tweet, writing "We definitely disagree here, Colson! Nothing but respect to you guys though- especially because you and Megan are so f#*king great in this movie."
https://www.instagram.com/p/CRugMeUNNBF/?utm_source=ig_embed&utm_campaign=loading
A post shared by Emile Hirsch (@emilehirsch)
Randall Emmett went ahead and commented "agree, thank you," while fellow Midnight in the Switchgrass actors echoed his statement.
Machine Gun Kelly has yet to respond to backlash over his tweet, but as a reminder he and Megan Fox met on set of this movie. Randall Emmett previously told Us Weekly how much chemistry the pair had on set, saying "As a director, and purely from an artistic point of view, their chemistry was unreal. I mean, you can see … he's an incredible actor, she's an incredible actor. … That in itself is a win. Clearly, there was chemistry. Clearly, there was a connection … but I was looking at it from a direction point of view and I was like, 'Man, I'm a genius.' Like, 'They're great! I'm so good at this!'"
Source: Read Full Article