Michelle Yeoh Makes History As First Asian Best Actress Oscar Winner, Calls Award "Beacon Of Hope And Possibility"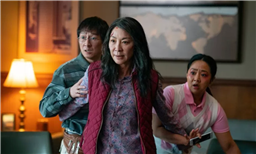 Michelle Yeoh made history as the first Asian woman to win Best Actress at the Academy Awards. It's a triumphant and moving moment for the thesp who killed in her role as a time-traveling Chinese-American laundromat owner navigating an IRS audit and complex relationships with her husband and daughter in Everything Everywhere All At Once. It was her first Oscar nomination.
"For all the little boys and girls who look like me watching tonight, this a beacon of hope and possibility. This is proof that, dream big and dreams do come true. And ladies don't let anybody tell you you are ever past your prime," said an emotional Yeoh.
Related Story
Oscars Break With Tradition As Halle Berry Fills In As Presenter For Banned Will Smith
She dedicated the award to "my mom, and all the moms in the world, because they are really the superheroes and without them none of us would be here tonight."
Yeoh, of Malaysian Chinese descent, started her career in Hong Kong action films and starred in the iconic Crouching Tiger, Hidden Dragon. She became the second Asian woman to win a Golden Globe for Best Actress in a Motion Picture (Musical/Comedy) this year, following Awkwafina in 2020.
Yeoh is also the first openly Asian woman to be nominated for a Best Actress Oscar. Mumbai-born mixed race actress Merle Oberon had an Oscar nom in the category in 1936 for Dark Angel but didn't tout her Asian heritage given the times and played white women in her films. (The award that year went to Bette Davis for Dangerous.)
Asian actors earned a record four nominations in the major acting categories—Yeoh's co-stars Ke Huy Quan and Stephanie Hsu and The Whale's Hong Chau.
EEOAO directors Daniel Kwan and Daniel Scheinert were nominated for best original screenplay and the film for Best Picture. The film from A24 – that debuted a year ago at the currently underway SXSW — led the nominations with 11 total nods.
Must Read Stories
Watch The Oscar Song Performances: Rihanna, Lady Gaga, "Naatu Naatu", More
Jimmy Kimmel Slaps Back At The Slap In Oscars Monologue – Watch
Oscar Red Carpet & Gala Ceremony Photos (Updating Live)
Pelosi Panel; 'Bottoms', Flamin' Hot', 'Dungeons And Dragons' Reviews; Studio; More
Read More About:
Source: Read Full Article