Meghan McCain Throws A Major Accusation At Kamala Harris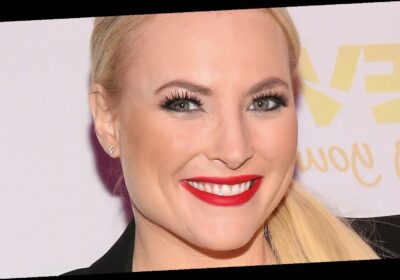 Once again, The View's Meghan McCain has uttered a highly controversial on-air remark — this time aimed straight at Vice President Kamala Harris.
As reported by Daily Beast, during an episode of the live talk show on Tuesday, March 16, 2021, McCain declared that both Republicans and Democrats were "equally responsible" for the COVID-19 vaccine hesitancy last fall among Republicans. She then referenced Harris, the Democratic VP nominee at the time, when she said that she "would not trust Donald Trump, and it would have to be a credible source of information that talks about the efficacy and the reliability of whatever he's talking about."
McCain followed up her claims by stating that she believes the vaccine has been politicized by all sides. "So she's expressing skepticism about the vaccine under the Trump administration," she noted. "A lot of Republicans I know are expressing skepticism about the vaccine under the Biden administration, which is why this has been so dangerous that this has become so politicized. Both sides are equally responsible for this."
Alas, McCain did not stop there. Keep reading to learn who else McCain believes has specifically contributed to the vaccine skepticism problem the United States is now facing.
Meghan McCain also blames President Joe Biden for vaccine skepticism
As it turns out, however, Meghan McCain is not only holding Vice President Kamala Harris' feet to the fire for the COVID-19 vaccine hesitancy. While she acknowledged that Republicans were notorious for being "contrarian by nature," she also blamed President Joe Biden for seemingly not giving any credit to the Trump administration for their part in the rollout of the vaccine, per Daily Beast. "There have been many opportunities to right this wrong, including President Biden going on TV and giving credit to President Trump for the help with the rollout of this vaccine, which he didn't do," she declared.
It should be noted, however, that in December 2020, upon receiving his own dose of the COVID-19 vaccine, President Biden did give credit to Operation Warp Speed, per NBC News. "I think the administration deserves some credit getting this off the ground with Operation Warp Speed," he publicly acknowledged. 
Where does Trump play into this issue?
As reported by Daily Beast, recent polls show that vaccine skepticism among Republicans — namely Trump supporters — is at an all-time high.
Meghan McCain doubled down on that data and claimed that she believes those numbers are even higher than what the polls are reflecting. "I do trust science," she reassured viewers at home. "I trust doctors, and quite frankly I would let them put an iPod Nano between my shoulder blades if it means I can get drunk at Caesar's Palace again," she joked.
But while we're on the subject of Republican hesitancy — one might be inclined to look to former President Donald Trump's attitude and behavior in regard to the development and rollout of the COVID-19 vaccine. As reported by CNN, both Donald and Melania Trump received the vaccine at the White House in January just before his tenure as president was up. Surprisingly, however, he didn't publicly confirm that he received the vaccine until late February when he delivered a boisterous speech at the Conservative Political Action Conference, hosted in sunny Orlando, Fla. "So everybody go get your shot," he surprisingly encouraged the pro-Trump crowd. While the call to action is all well and good, many can't help but think that Trump's vote of confidence for the vaccine comes a bit too late. 
Meghan McCain's comments have been met with harsh criticism
Upon Meghan McCain's controversial remarks in which she blamed both President Joe Biden and Vice President Kamala Harris for the COVID-19 vaccine skepticism among United States citizens — many of whom are Republican — Twitter lit up like a Christmas tree. 
"Will someone remind this woman that trump said Covid-19 was a hoax?? @MeghanMcCain is a pot stirrer and a very bad one. Shame on her. I stopped watching the View b/c of her," one user wrote.
Meanwhile another user offered up possible solutions to the vaccine hesitancy problem. "Encourage GOP local and national leaders to tell them it's safe and they should take it," the user penned.
Still, another user pointed out that McCain only referenced part of Harris' quote regarding the vaccine. "The clip she had played was edited and she didn't play the clip from the debate where K.H. says she'll be 'first in line' if the vaccine were approved by medical experts. To adapt something my grandma used to say: @MeghanMcCain "…will lie when the truth is handy," the user tweeted.
Source: Read Full Article