Meghan King Explores Her Sexuality as She's Now Open to Dating Women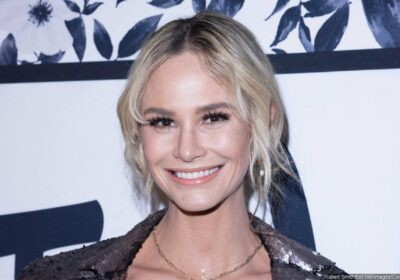 While admitting that she never thought her desires were to be with a woman, the 'Real Housewives of Orange County' alum spills on her three-night hook up experience.
AceShowbiz –Meghan King took her New Year resolution to the heart. Months after she declared in her blog that she would explore her sexuality if she wanted to, "The Real Housewives of Orange County" alum opened up more about the experience she had with another woman.
On Thursday, March 30, the reality TV personality attended the fourth anniversary celebration of Sutton Stracke's West Hollywood boutique, The Sutton Concept, and spoke to ET about the matter. "I opened up my dating app to women. We meet and I've never done this before," she began her revelation.
On the reason why, the mother of three bluntly pointed out, "I have thought about [women]. Sometimes when I look at porn, I look at lesbian porn, but I never thought that my desires were to be with a woman. I'm like, 'What if there is something there? What if I am a lesbian? What if I'm bi?' "
Meghan further dished on her first experience in going on a date with another woman. "So I meet this chick, we go to this party, and we decide to stay together in New York for three nights. The first night, the woman and I hook up at the Yale Club," she spilled.
"So, we're hooking up, we're hooking up in bed, I'm like, 'This is fun or whatever.' She told me she identified as bi, but had never been in a relationship with a woman. I don't identify as bi and I had never, ever had an experience with a woman outside of a threesome and that had been many years," the reality TV star continued.
The 38-year-old additionally shared, "So I told this woman, 'I like you and hanging out with you, and you're beautiful and fun and sexy." She went on to say, "But the thing is I really like c**k and I can't be in a monogamous relationship with a woman.' "
Meghan has previously touched on the subject of her exploring her sexuality through a blog post. In early January 2023, she confessed that she intended to live authentically. "I will explore my sexuality if I want to, and I will honor platonic and non-traditional relationships in ways Western society has done the disservice of making us believe are unimportant. I am present," she wrote.
Meghan has gone through three different marriages. She married Brad McDill in 2007, but the union ended in a divorce in 2011. A few years later, in 2014, she tied the knot with former baseball player Jim Edmonds. Despite sharing three children together, the two went their separate ways and got divorced in 2021. Less than a year later, she married lawyer Cuffe Biden Owens, but the marriage was annulled in July 2022.
You can share this post!
Source: Read Full Article