Matthew McConaughey Roasted After Giving Son a Choppy Haircut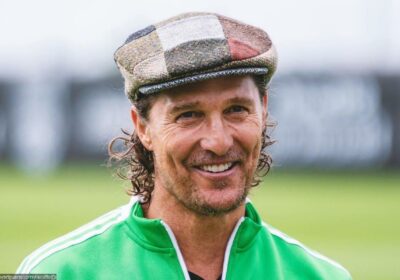 A photo of the 'Dallas Buyers Club' actor giving his 10-year-old son, Livingston, a DIY haircut was shared on social media platform by his wife, Camila Alves.
AceShowbiz –Matthew McConaughey has found himself being roasted by his fans. On Sunday, February 26, a photo of the 53-year-old Hollywood hunk trying to give his 10-year-old son, Livingston, a DIY haircut made its way online, and many noticed the choppy do he worked on.
Matthew's much-criticized pic was shared by his own wife, Camila Alves, on her Instagram account. Along with a caption that read, "Then this happened…," it showed the "Dallas Buyers Club" actor turning into a bathroom barber for Livingston with his 14-year-old son, Levi, looking on. He was holding a pair of scissors while standing behind Livingston who sat down covered in a black barber cape.
Camila's cheeky post was quickly flooded by comments that varied from apprehensive to supportive. One of the top comments read, "Why o why – Matthew has many talents – but I guess haircuts isn't one of them," along with a smiley emoji at the end. Another doubtful fan warned, "Stop it. Seriously, have a professional take care of it!" A third one jeeringly commented, "Oh noooo! Not the dreaded 'dad haircut'!!!!" Meanwhile, a fourth asked, "Did someone have to fix the experiment? LOL!"
Despite the many mocking, a number of other fans still held Matthew in high regards, believing he is a man with many talents. One wrote in the comment section that the Oscar-winning actor's cut work "looks stunning," adding a heart-eyes emoji in the end. Another support was given by jewelry designer Kendra Scott who stated, "We can add hairstylist to Matthew's resume! Liv's expression is so funny!".
The comment section of Camila's post was also filled with demand from fans who were curious about the final result of the haircut. One in particular requested, "Please post the finished pictures."
This bathroom haircut was not the first post Camila made of Livingston in 2023. In January, she uploaded a picture of the boy blowing candles on his birthday cake. At the time, she wrote, "Nothing fancy…just us…December 28th it was Livingston's birthday!!! All he wanted to do is go to Altitude the trampoline place in Austin and an ice cream cake!"
Matthew and Camila have been married since 2012. In addition to Livingston and Levi, they also have 13-year-old daughter, Vida, together.
You can share this post!
Source: Read Full Article