Love Island's Iain Stirling apologises to wife Laura over 'major ick'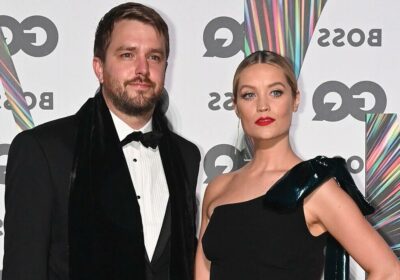 Iain Sterling apologises to Laura Whitmore after 'icky' admission
We use your sign-up to provide content in ways you've consented to and to improve our understanding of you. This may include adverts from us and 3rd parties based on our understanding. You can unsubscribe at any time. More info
Iain Stirling, 35, made a guest appearance on BBC Radio 1 earlier this week, where he spoke to presenter Greg James, 37. The voice of Love Island was left cringing when he discovered he was responsible for one "major ick" in his relationship with wife Laura Whitmore, 37, who previously hosted the hit ITV show.
On his Radio 1 show, Greg spoke to his viewers about one specific "ick" in their relationships that plenty of people are guilty of.
"Iain Stirling," Greg began, as Iain began groaning with embarrassment in the background.
"Have you ever kissed somebody in a moment of passion, pulled away from the kiss, looked them dead in the eyes and gone, 'Hey' or 'Hi'."
Greg continued teasingly: "Can you tell me you haven't done that?"
"I need a minute," Iain replied sternly, as Greg agreed: "Exactly my reaction."
"Oh my god," Iain said. "I might go as far as to say I've done that 50% of the time?"
This prompted Greg to burst out laughing, before Iain added: "Can I publicly apologise to my wife now?"
"Do you do it to Laura now, still?" Greg asked incredulously.
"I can't… I don't… Yeah – probably. Yeah! Oh my god," Iain lamented, as Greg commented: "It's bad isn't it?"
"That's the ickiest thing I've ever found out about myself and that's saying something!" Iain revealed.
"The ick" was first coined by Ally in 1997 US television show Ally McBeal, but also later gained new popularity in the UK after it was used by Olivia Attwood to describe her relationship with Sam Gowland in the 2017 series of Love Island.
It is a term which refers to the sudden "cringe" feeling you have with someone you are dating, meaning that you become repulsed or put off by them.
Monty Don and wife Sarah's financial struggles made him 'loony' [INSIGHT]
Stacey Solomon left tearful as she finally announces baby's gender [LATEST]
Cheryl received 'sign' from Girls Aloud's Sarah Harding through radio [NEWS]
Laura was the host of Love Island between 2020 and 2022, taking over from the late Caroline Flack.
After Caroline tragically died by suicide while the sixth series was airing, Laura returned for the seventh series in June 2021.
Last August, it was announced that Laura would be stepping down from the role, while Iain continues to provide the voiceover – a job he has held since the show's first series back in 2015.
Laura has since been replaced by presenter and model Maya Jama, who has already proven to be a big hit with ITV viewers.
After years of dating Iain and Laura married in 2020 in a humanist ceremony at Dublin City Hall.
In March 2021, the pair welcomed their daughter, whose name they have decided not to share.
Radio 1 Breakfast with Greg James returns on Monday at 7am on BBC Radio 1.
Love Island: Unseen Bits returns tonight at 9pm on ITV2, while the main programme will return on Sunday night.
Source: Read Full Article