Love Island fans rejoice as Tom is 'exposed' after teary Liv confronts him over Ellie kiss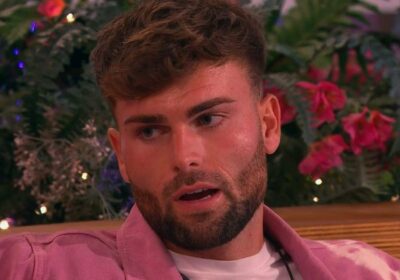 Tensions finally boiled over in Tuesday night's episode of Love Island as Olivia Hawkins was informed that Tom Clare kissed another Islander.
Last week, footballer bombshell Tom kissed Ellie Spence and told no one, not even the boys, about it and soon told Olivia that he wanted to progress with their relationship.
Monday night's episode saw a game of whispers start after Ellie confided in TikTok farmer Will Young about the snog while asking him to keep it a secret.
Shocker, Will did not keep it a secret and soon told his own partner, Jessie Wynter, as well as Shaq Muhammad and Tanya Manhenga during a four-way chat on the terrace.
Tanya then proceeded to tell Zara Deniz Lackenby-Brown, who is technically coupled up with Tom and is sharing a bed with him.
The final few seconds saw tensions boil over, and Zara stormed out of the Villa to find Olivia, who was chatting with new boy Spencer Wilks.
"I need a moment before I go off," Olivia admitted before adding, "If this boy speaks to me any more lies."
Spencer informed the rest of the lads about the tense conversation, with Tom looking immediately nervous when Olivia's name was mentioned.
Further admitting that she was "either going to cry or shout", Olivia made her way towards the lads for the showdown of the century, with Tom exclaiming, "Oh, b*****ks" as she approached.
"It all makes sense to me now," Olivia told him after asking if he had "anything to tell me."
Tom did not admit to any wrongdoing and instead insisted that it was "just a kiss" and he didn't "s**g anyone."
"I feel like I've been straight up with you," he told Olivia, despite previously telling Zara that he saw Ellie as a friend.
Fans flocked to Twitter to discuss the shocking moment, with one penning: "Yasss Tom is being exposed for the liar he issss!!!!! #loveisland".
"Finally getting to see Tom get exposed #loveisland," another wrote, as a third added, "Tom just doesn't care about Olivia in the slightest. He never did. Not once did he look her in the eyes. Instead…"
Another fan wrote: "Tom is a scary scary man. lying w sn ease 'she initiated it' THERE ARE CAMERAS??"
Later in the episode, while discussing the kiss with Ellie, Tom did admit that "It's only flirty and nothing more."
Ellie wasn't having any of it either and quickly abandoned the footballer on the couch on his lonesome because she was "losing my patience with him."
READ NEXT:
Click here for today's top showbiz news
Inside the £15k a night Portland Hospital where Molly-Mae gave birth in private suite
Wayne Lineker's 'weird' comment on Molly-Mae Hague's baby announcement slammed by fans
Molly-Mae Hague's daughter's baby name meaning that she's had 'picked out for years'

For the latest on your favourite celebrities, sign up for OK!'s daily newsletter here
Source: Read Full Article