Lorraine Kelly brands Boris Johnson 'whatzisname' in epic dig after Susanna Reid chat snub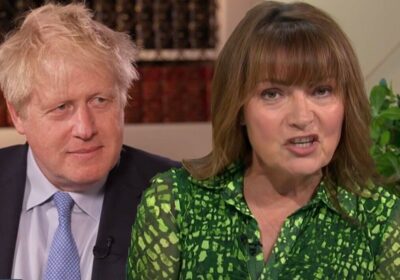 GMB: Boris Johnson asks 'Who is Lorraine?' during interview
We use your sign-up to provide content in ways you've consented to and to improve our understanding of you. This may include adverts from us and 3rd parties based on our understanding. You can unsubscribe at any time. More info
Lorraine Kelly, 61, has responded to Prime Minister Boris Johnson "snubbing" her on Good Morning Britain on Tuesday. Viewers were stunned, and GMB host Susanna Reid was soon hitting back, as Johnson asked who the longtime ITV host was.
On Twitter, Lorraine didn't hold back, as she shared a clip from the interview between Susanna and Johnson, before swiping: "Well worth a watch with @susannareid100 and whatzisname."(sic)
It comes as Johnson appeared on his first interview with the programme in around five years, and for the first time since he was accused of hiding in a fridge to avoid Piers Morgan on the show in 2019.
But, as the interview was wrapping up after Johnson was apparently late, he was left asking who Lorraine was as Susanna brought her up.
Lorraine was waiting to begin her self-titled show, but with GMB overrunning, Susanna was forced to tell the PM that they needed to hand over to the ITV host.
But Johnson claimed to not know who she was, asking: "Who's Lorraine," before looking around, causing Susanna to hit back: "Who's Lorraine? Lorraine's a legend."
He then appeared to mumble, as the sound cut off: "Great, fantastic, well I don't want to talk to Lorraine…" as the show then went off air, and Lorraine began.
Lorraine appeared very amused by it, especially after seeing fans messaging her in confusion.
Despite her swipe, Lorraine defended Johnson over his mishap, claiming there was no reason for him to know who she was.
She said: "There are loads of you, it's so funny, reacting to Boris Johnson earlier on wondering who I was. I love how he said who's Lorraine.
"Why should he know who I am? I mean he's busy in the mornings, he wouldn't be watching us although he could learn a lot as you know."
Lorraine later commented as her show came to an end: "What a funny, funny day it's been," before laughing.
The PM's spokesman later said of the moment: "I think as was clear, the Prime Minister was not fully across ITV's daytime line-up this morning. You will appreciate he has a number of issues to deal with on his desk."
DONT MISS:
Giovanni Pernice upset Anton Du Beke by calling him Strictly's 'past' (PHOTOS)
Adam Thomas 'regrets' last memory he has of late father (NEWS)
Kylie Jenner mocked by Lily Allen for lookalike Met Gala wedding gown (LATEST)
Viewers weren't having it though, taking to Twitter to share their reactions to the apparent snub.
A6pt said: "Boris Johnson showing he's not out of touch with the country, this morning!?! 'Lorraine, who's Lorraine?' The only person that's been on tv for over 30 years and is known by her first name only!! That Lorraine!"
While Gabriel85 said: "Who's Lorraine!"
As April40 added: "Wouldn't be surprised if his 'Who's Lorraine?' comment was a deliberate dig as he realised his interview was a car crash."
Susanwilliams39 commented: "I mean we can all laugh about the 'who's Lorraine' comment but that's the reality of Boris Johnson, when he should keep his mouth shut, he can't. He is a liability."
While others argued that Boris should not know who Lorraine is, as he is busy with more pressing matters.
@MikeJofLondon typed: "When she said Lorraine is next, how is he to know it was you? He doesn't watch TV in the morning like the pensioners and those that don't go to work. If she had said Jeremy is next, would he be expected to know it was Kyle, if he was still on air. No."
@canadiancarol1 replied: "A good example of 'self-importance'……"
@mikedeedees agreed: "Lorraine. You are on after 9. The pm wouldn't have ITV on at that time. Get over yourselves."
Source: Read Full Article