Lorde Describes Teenage Fame: "People Wanted to Drink My Youth"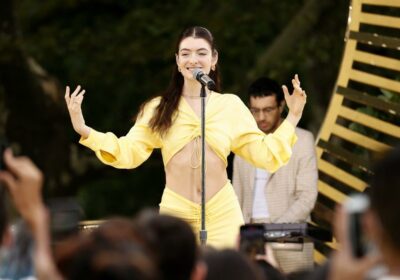 At the age of 16, Lorde became a global music phenomenon. The New Zealand teenager, whose real name is Ella Marija Lani Yelich-O'Connor, released one of the year's biggest albums and immediately became a household name. Eight years later, with two more albums under her belt, Lorde reflected on the impacts of young stardom. 
Lorde captured public attention with 'Pure Heroine'
Lorde's debut album, Pure Heroine, came out in 2013. The album's lead single, "Royals," was a Billboard Top 20 song in the United States. This made Lorde the youngest female artist to top the Billboard Hot 100. Her brooding pop sneered at celebrity, but Lorde was suddenly known across the globe. 
In 2017, Lorde released her second album, Melodrama. While the album was not as tremendous a commercial success as Pure Heroine, many critics regard it as the stronger album.
"It's not enough to say Lorde is one in a generation. Really, it's amazing this is the first time she was a teenager for how good she was at it," Pitchfork wrote of the album.
After the release of Melodrama, however, Lorde dropped out of the public eye. She deleted her social media accounts and remained generally quiet until the 2021 release of Solar Power.
She described what it's like to be famous at a young age
At 24, Lorde has stepped away from the harsh light of teenage celebrity. From her new, more distant vantage point, she reflected on surviving young fame in an interview with The Times.
"It's not normal," she said. "My first single was so huge — I thought, 'This just happens.' I remember, over and over, the sensation of feeling like people wanted to drink my youth."
For her, the best way to navigate fame was to step away from it.
"Fame is a really interesting thing to happen," she said. "But it gets tricky for people if they find the experience super-validating, if they feel it's giving them fuel. For me, I was always a little suspicious of it, or sure it would go away. I am significantly less famous than I was when I was 16, but that's exactly how I like it. I'm not getting my validation from it."
Her latest album is tonally different than the first two
After Melodrama's less commercially lucrative release, Lorde realized that explosive young success can be fleeting. This has become more apparent after the release of her latest album, Solar Power, which has received mixed reviews.
The album is brighter than the first two and reflects on fame and growing older. In it, Lorde sounds happy, a departure from the moody persona fans have gotten to know.
"My fans probably feel a duty to me," she said. "But if you're looking for a savior, that's not me. It's somewhere. It's someone. It doesn't have to be me."
Through Solar Power, Lorde lays out her navigation through the rocky relationship with youthful fame. Despite the tumult, she has found some form of peace.
Source: Read Full Article