Lily Collins Just Debuted an Ice-Blonde Pixie Cut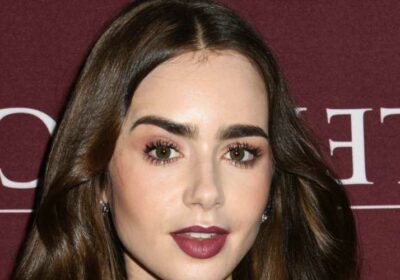 You might be used to seeing Lily Collins in a beret, but we were certainly not expecting to see the actress with a platinum-blonde pixie cut. Nonetheless, both looks are très chic.
Collins appeared on the cover of Elle U.K. sporting the icy new look. The publication shared the cover of its December/January issue on Monday, which captures Collins in an avant-garde pose, flaunting the striking new 'do and her signature brows. Her glam is very clean and simple, save for the diamond and pearl accents below her eyes. Her dark lashes are long, exaggerated, and separated, reminiscent of '60s icon and model Twiggy. The nearly white hue of her tresses matched her all-white, one-shoulder dress.
It's unclear if the shaggy cut is a wig or here to stay. Either way, the new style certainly suits the actress, who plays Emily in the cult-favorite Netflix show Emily in Paris. She opened up to the publication about filming the second season (out next month) in France amidst the ongoing pandemic.
"It was very empty when I first got there. And there weren't any Americans around because they weren't allowed," she said. "So that felt even more strange, because the only accents you would hear were French — which was also really lovely."
But she added that the rare quietness of Paris allowed her and her new husband Charlie McDowel to explore the City of Love.
"I definitely got to know it better this time around, just because I wasn't taking a lot of public transport because of regulations for filming. So I was walking a lot more. Charlie is great with directions and exploring and had marked places [to visit] all over Paris, even before I had the show," she told the publication. "And so we were constantly walking and exploring. And, you know, our crew is all French. And so is most of our cast, except for Ashley [Park, who plays Mindy] and I. So you get to experience another side of Paris with them."
Source: Read Full Article