Lamar Odom Was Caught Scratching His Crotch on Live TV Last Night, So…Yeah
Good morning, here's what you've missed: Tyga is out here trolling Travis Scott on Instagram, Cody Simpson appears to have written a sex poem based on Miley Cyrus, and—ah yes—Lamar Odom was caught scratching his crotch on live television. The moment went down while Alan Bersten and Hannah Brown were being interviewed after their performance, and like…I guess Lamar didn't realize he was also on camera? Either way everyone was supposed to be watching Alan and Hannah but instead they were treated to THIS:
https://www.instagram.com/p/B3Vs0rNBkS6/
And yes, the moment exploded on Twitter:
I think #LamarOdom be forgetting the show is live. #DWTS 😁😅 pic.twitter.com/QsumM62jts
Did anybody catch lamar odom grabbing his balls or was that just me? #dtws
Apparently, Lamar was asked about this awkward moment by reporters including HollywoodLife after the episode aired—and he had a pretty good attitude. "Yeah, I think there's…The Shade Room caught me adjusting myself," he joked. "It makes me feel like a little creep. I'm blessed. I guess that means I'm blessed. I had to adjust myself; it's the outfit. But it's the truth…you understand that problem. It's nothing to be ashamed about. I had fun."
Cool cool cool. So glad we've all worked through this together! Though, sadly it didn't end up being Lamar's night because he was eliminated after dancing the Viennese waltz to "Kiss From a Rose."
Bye Lamar, we'll miss your whole thing.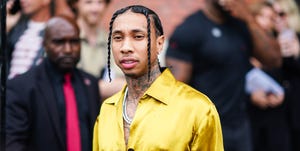 Source: Read Full Article