Kim Kardashian, Kanye West reportedly spent Christmas together despite divorce talk, more news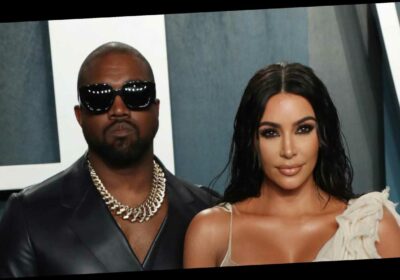 Kim Kardashian reportedly spent Christmas with Kanye West, plus the latest on those Van Jones rumors
Amid a flurry of new reports claiming Kim Kardashian West is preparing to file for divorce from Kanye West, Kim's fans have already decided she has someone new in her life. As one Twitter user put it, "Kim Kardashian and Van Jones: An Inevitable Love Story." While "inevitable" is probably an overstatement, it's true Kim, 40, is friendly with the 52-year-old CNN commentator, and the two have had plenty of glowing things to say about one another since their 2018 White House meeting. Still, rumors he and Kim are an item appear to be the figment of social media's collective imagination. According to TMZ, Kim and Kanye not only spent Christmas together with their four children, but also went the extra mile in terms of gifts for one another. Kanye gave Kim five new, 2021 Maybachs, while Kim gifted a number of pieces by the artist James Turrell to her husband, who's a huge fan of his work. It's unclear if the gifts were a last-ditch effort to save the marriage, though. Kim's been living separately from Kanye and mulling a divorce for some time, People reported this week, but has held off on filing for divorce out of concern for how it would affect their kids.
Keep reading to see how Hollywood's reacting to the crisis at the U.S. Capitol …
RELATED: Celebrity splits of 2020
Mark Ruffalo, Meghan McCain, more celebrities speak out about Capitol breach during MAGA rally
As the world watched on Wednesday, Jan. 6, protesters breached the Capitol building during a pro-Donald Trump rally in Washington, D.C., as politicians were confirming the electoral vote. Celebrities, Republican and Democrat alike, were among the many voices reacting to the news on social media. "Imagine if this was our side," tweeted Mark Ruffalo, an outspoken Democrat and political activist. "There would be rivers of our blood in the streets and not a single one of us would be armed. This has been allowed. #CoupAttempt." Republican Meghan McCain was similarly outraged, tweeting, "Lock. Them. Up." "Bachelor" star Rachel Lindsay urged her followers to consider what would have happened had Black Lives Matter protesters grown violent and stormed a government building, while "Insecure" creator and star Issa Rae slammed President Trump as a "desperate man," calling his supporters, "silly sheep." Added Issa: "Embarrassing." As the violence continued, President-Elect Joe Biden called on President Trump to "step up," telling the nation, "our democracy is under unprecedented assault unlike anything we've seen in modern times." Later, the president, apparently responding to pressure from lawmakers, told his supporters to "go home" in a video that was flagged by Twitter for including potential disinformation.
RELATED: Hollywood reacts to Trump telling Georgia Sec. of State to 'find' him votes
Harry Styles sweetly wraps his arm around rumored girlfriend, Olivia Wilde in new pics
Harry Styles and Olivia Wilde's apparent romance got another confirmation on Wednesday, thanks to the Daily Mail. Previous pics showed the former 1D star, 26, and his "Don't Worry Darling" costar and director, 36, clutching paws as they attended Harry's agent's wedding together over the weekend. In the latest photos, Harry wraps an arm around Olivia as the masked pair enjoy some time in the sunshine with friends in Santa Barbara, California, on Sunday, following the wedding. Other photos show the two staying close to one another's sides as they walk down a street with their pals. The relationship marks Olivia's first known romance since she split from her fiance, Jason Sudeikis, last year.
RELATED: More couples with big age gaps
Katie Couric will reportedly be the next guest host of 'Jeopardy!' after Ken Jennings
When "Jeopardy!" finishes airing the final shows Alex Trebek taped prior to his death in November, Katie Couric is slated to take on guest hosting duties for one week, the Los Angeles Times reported Wednesday. Although the outlet only cited unnamed sources — reps for the former "Today" host and Sony Pictures Television declined to comment –the outlet says "several sources" confirmed Katie, 63, will begin her stint as guest host when "Jeopardy!" G.O.A.T. Ken Jennings wraps up his guest hosting tenure, which begins Jan. 11. Katie's episodes are expected to begin later this month. Alex, who hosted the show for all of its previous seasons, died after battling pancreatic cancer on Nov. 8.
Dr. Dre's home targeted by would-be burglars as he recovers from a brain aneurysm
As Dr. Dre continued to recover in the hospital from a brain aneurysm, four people were arrested in the Brentwood neighborhood of Los Angeles after allegedly trying to break into Dre's home. A rep for the Los Angeles Police confirmed to Billboard that the group was arrested on charges of attempted burglary. As for Dre, his condition was continuing to improve as of Tuesday night, when he posted a health update on Instagram thanking his "family, friends and fans for their interest and well wishes," and assuring followers that he's A-OK. "I'm doing great and getting excellent care from my medical team," he wrote. "I will be out of the hospital and back home soon. Shout out to all the great medical professionals at Cedars. One Love!!"
Amber Heard gets a green light on $100M countersuit against Johnny Depp
A Virginia judge ruled Monday that Amber Heard can proceed with her $100 million countersuit against ex-husband, Johnny Depp, who initially sued her for defamation (and half as much money). Johnny's suit alleges Amber defamed the actor in her 2018 op-ed for the Washington Post about how society protects abusive men. After Johnny filed a $50 million suit against Amber, who never used his name in the piece, the actress responded by filing her own lawsuit alleging he launched "a false and defamatory smear campaign" against her. Johnny tried to have Amber's suit thrown out, to no avail. In an opinion delivered Monday, Judge Bruce White wrote that Johnny's comments about Amber "imply she lied and perjured herself" when she asked the court for a restraining order against him in 2016 and "that she lied about being a victim of domestic abuse," according to Deadline. "In light of the #MeToo Movement and today's social climate," the judge continued, "falsely claiming abuse would surely 'injure [Ms. Heard's] reputation in the common estimation of mankind,'" making her defamation claim "actionable." Meanwhile, Johnny's waiting learn if a London appeal court will give him a new trial after he lost his case against The Sun, which a judge found had reason to brand him a "wife beater." He lost his first appeal. His defamation trial against Amber is set to begin May 3.
Hollywood reacts to news of no charges for police officer who shot Jacob Blake
Common, Demi Lovato and more stars spoke out on social media this week following news that no charges will be filed against Rusten Sheskey, the white police officer who shot Jacob Blake, who is Black, in the back multiple times in Wisconsin in August. The District Attorney for Wisconsin's Kenosha County, Michael Graveley announced the decision, sparking widespread outrage on social media. "Justice for Jacob Blake," wrote Demi on Twitter, sharing the news (via People). Common posted a version of the news and quoted Dr. Martin Luther King Jr., sharing, "An unjust law is no law at all." In a video clip, Los Angeles Lakers star LeBron James urged viewers to "stay strong, continue to believe in each other and continue to push for the greater change and greater good." Rosanna Arquette was less positive. "Letting off the cruel racist officers who shot Jacob Blake 8 times in his back in front of his children leaving him paralyzed is the horror of Racism," she wrote, referencing the fact that Jacob's children saw the shooting from the backseat of an SUV. (Rusten Sheskey reportedly shot Jacob seven times, according to multiple outlets.) "It's despicable beyond measure," Rosanna added. "… they have announced this today because it's planned and timed to create violence." There was no reported violence at the protests that followed the announcement. After being hospitalized for six weeks, Jacob, 29, remains paralyzed from the waist down. The officer who shot him is on administrative leave.
Christie Brinkley, 66, gets a hip replacement 26 years after helicopter crash
Christie Brinkley's kicking off 2021 with a major physical update. "New Year, New Hip!" she wrote on Instagram Tuesday, posting photos of herself on a boat in a swimsuit. The supermodel, 66, explained that her hip was injured in a helicopter crash in Telluride, Colorado, more than two decades ago, and the pain had gotten "worse each year." Though she was told she should have it replaced 12 years ago, Christie said the idea of surgery was "daunting." "And I had things to do!" she added. "But quarantine put a damper on any plans so I decided to finally take time for myself and do something about the pain that had progressively influenced my decisions," she wrote. "I wanted to be ready to be able to say yes to opportunity. I had my surgery at Thanksgiving and I was dancing in my kitchen by New Years Eve and today I put on my long fins and explored the coral reefs propelled by my new hip!" More shots in her post showed she was out for an early morning dive with her son, Jack. "… If you've been putting something off that could improve your well-being but hesitate out of some sort of fear, I suggest learning as much as you can about the process and the results and expectations," she advised. "I found the best Doctor for my circumstances and voila! I can't tell you how happy I am to have done this. Now I can focus on getting back in shape and rebuilding my strength. Never to old to get hip! 😜 [sic."
Sacha Baron Cohen brought back Borat because he 'felt democracy was in peril'
As Hollywood navigates how to deal with the coronavirus pandemic, the majority of filmmakers and TV showrunners have opted to tell stories that aren't driven by COVID-19. But as Sacha Baron Cohen explains in a new interview with Variety, he decided to bring back his Borat character largely because of the pandemic. "I felt democracy was in peril, I felt people's lives were in peril and I felt compelled to finish the movie," he says. For Sacha, making "Borat Subsequent Moviefilm" was also very much about what he describes as "the danger of Trump and Trumpism." When he decided to go forward with production despite the risks involved, he says it was because he believed, "What coronavirus demonstrated was that there's a lethal effect to his spreading of lies and conspiracy theories." Referencing the masks that largely remained on throughout the movie, Sacha added: "Rather than run away from how the world was dealing with coronavirus, I felt we should lean into it."

Source: Read Full Article