Kim Kardashian Blasts Kanye West for 'Hurting' Her With Drake Cheating Rumor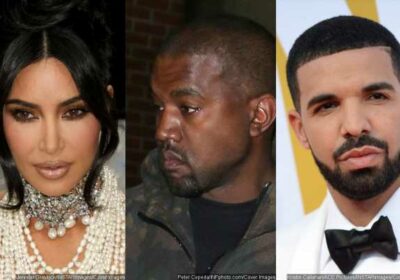 When opening up about her relationship with the 'Donda' artist, the 'Kardashians' series regular claims he 'started a rumor' about her 'hooking up' with the 'Hotline Bling' singer.
AceShowbiz –Kim Kardashian has blasted her ex-husband for launching rumors of her cheating on him with Drake. When opening up about her relationship with Kanye West, the series regular of "The Kardashians" slammed the "Donda" artist for "hurting" her by kicking start the longstanding speculation.
The 42-year-old brought up the topic when she had an emotional chat with her mother Kris Jenner in the May 25 episode of their TV reality series. She told the matriarch, "The one that was supposed to protect me and still does interviews saying they will be my forever protector is the one that is hurting me the most."
Kim went on to state, "He was the one that started a rumor that said I was hooking up with Drake, having an affair our whole marriage. He accused me of that publicly. So the person that's supposed to protect me the most publicly would accuse me of having an affair throughout our whole marriage." She added, "I really can't wrap my head around how he is a protector."
The reality TV star further expressed what went through her mind at the time, "I don't know what to do. I don't want to be a part of this narrative." In a confessional session, she additionally stated, "It's always just so intense. I just don't want to engage in a public feud with him."
On the reason why she brought up the matter today, the "Keeping Up with the Kardashians" alum stated, "I feel like I have to do something. Especially when it involves other people and it hurts other people, like, hurt me. Just keep it with me."
Elsewhere in the episode, Kim discussed the impact of Kanye's behavior on their four children, 9-year-old North, 7-year-old Saint, 5-year-old Chicago and 4-year-old Psalm. "All of his shenanigans, I don't even know what the f**k to call it, is gonna be far more damaging to the kids one day than my tape will ever be," she explained.
The younger sister of Kourtney Kardashian further elaborated, "Even through all of the craziness of everything that Kanye says about us, I never comment, I never post. I have to sit here and not say anything, ever, because I know one day my kids will appreciate that, and I know that's the best thing for them."
Kim was linked romantically to Drake back in 2018 when she was still married to Kanye. In September 2018, she adamantly denied having an affair with the "In My Feelings" singer. Making use of her social media page to clear the air, she clarified, "Never happened. End of story."
You can share this post!
Source: Read Full Article