Kate Garraway warned by GMB co-star Laura Tobin about 'disastrous' lifestyle choice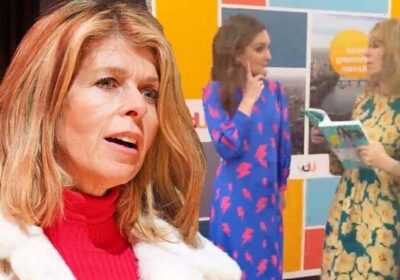 Kate Garraway discusses the NHS and the private sector
We use your sign-up to provide content in ways you've consented to and to improve our understanding of you. This may include adverts from us and 3rd parties based on our understanding. You can unsubscribe at any time. More info
Kate Garraway, 54, has taken to Instagram today to share a new video alongside her Good Morning Britain co-star Laura Tobin. The pair were promoting the weather presenter's new book, Everyday Ways To Save Our Planet, which launched today.
The new title was initially written to help readers make "small changes" in their day-to-day life.
Reflecting on milk consumption and its effect on climate change and sustainable living, Kate admitted it was a "disastrous" habit.
In a video shared in view of Kate's 1.1 million followers, the broadcaster said as she held up the book: "It's actually here. It's in physical form.
"It's really good, Laura. It's absolutely brilliant. And I've learnt… And I drink a lot of milk, but milk is disastrous."
Laura, who could be seen standing next to her, said: "I know. There's so many things that are so surprising in this book, but little changes…"
Laura also took to the social media platform today to promote her new book, which she had discussed on ITV's Lorraine earlier in the day.
She shared a series of snaps of herself on set and alongside her co-star Ranvir Singh as she showed off a copy of the publication.
The GMB star captioned the post: "Thank you @lorraine team for having me on to talk about my new book on release day-Loved chatting to my lovely @ranvirtv
"Everyday ways to save our Planet.
"Available NOW in all good book shops inc @whsmithofficial."
She concluded: "If you want to make a difference to the Planet and don't know where to start-This book is for you."
In February, Laura spoke exclusively with Express.co.uk on the challenge she has taken up with her five-year-old daughter Charlotte Blossom Eva for a good cause.
The TV star explained that she and her daughter took up litter picking in their local area.
She highlighted that it was actually Charlotte who wanted to take up the task.
Laura said: "We have quite a busy road that we walk on and there is rubbish on it all of the time.
"And [Charlotte] is really, really aware of the environment.
"I've always talked to her about rubbish and recycling.
"And that rubbish is effectively you digging a hole in the ground and putting stuff in there to bury it."
The weather presenter reflected: "It's really weird how children get that more than adults.
"Throwing it away is not just a magical place. It's there forever."
Source: Read Full Article