Kate Beckinsale hits back as fan warns her of 'rabies' as she shares clip feeding baby fox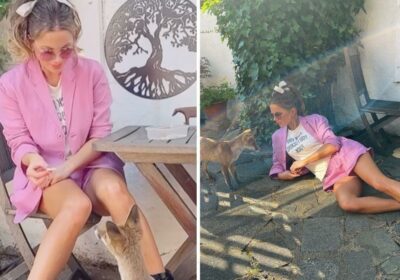 Kate Beckinsale jokingly thanks Nadia Sawalha for warning
We use your sign-up to provide content in ways you've consented to and to improve our understanding of you. This may include adverts from us and 3rd parties based on our understanding. You can unsubscribe at any time. More info
Kate Beckinsale, 48, has taken to Instagram with two sweet clips of herself entertaining a baby fox outside her home. However, the Hollywood actress' fans rushed to the comment section to share their thoughts on the videos, warning they may not be as sweet as they seem.
The Pearl Harbour actress, 48, shared the videos with her 5.4 million followers which saw her sweetly offer the fox food.
However, one fan suggested that Kate should be careful around the fox as she may run the risk of contracting rabies.
The actress quickly hit back, arguing that there are no recent known cases of rabies in humans.
Instagram user Merendonh wrote: "That fox got rabies shot?"
She replied, saying: "Rabies does not circulate in either wild or domestic animals in the UK, although some species of bats can carry a rabies-like virus.
"Human rabies is extremely rare in the UK.
"No human cases of rabies acquired in the UK from animals other than bats have been reported since 1902," she ended her response.
Other followers also took to the comments to weigh in on the video of the star with her new friend.
Mohalyak jokingly wrote: "Did you find out what the fox says?"
Milton.junior said: "Loved your new friend."
Tdriver1007 commented: "This is awesome! You are making a friend and you can see progress of trust."
While Laydalaise wrote: "Congratulations on your new friend."
In another picture of Kate and the fox, it transpired that the star had named the animal.
She wrote: "Big thank you to Penny for her expert fox advice and kindness.
"Huge not thank you to whoever did that horrifying fart in Selfridges this afternoon that caused me to almost fall off the escalator and die."
Davina McCall responded playfully: "Oh yeah … sorry about that."
Nigel.Halsey added: "Please take care, as this beautiful WILD animal may become too used to getting near people, thinking they have treats.
"Not everyone is as lovely as you."
Source: Read Full Article