Kanye West Spotted With Model Vinetria After Saying He Wants to Get Back Together With Kim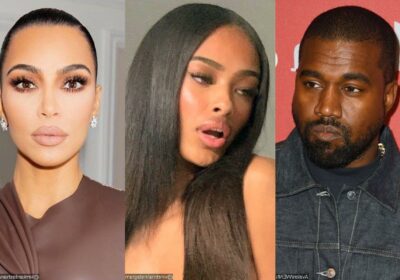 The 'Donda' artist is said to have been 'hooking up with' the 22-year-old model for a while amid his estranged wife Kim Kardashian's romance rumors with Pete Davidson.
AceShowbiz –Kanye West seemingly doesn't find it hard to move on from his failed marriage to Kim Kardashian despite his claims showing otherwise. After recently saying that he wanted to get back together with his estranged wife, the rapper is now rumored seeing a much younger model, Vinetria.
The "Flashing Lights" rhymer has been "hooking up with" the 22-year-old beauty "for a while now," according to Page Six. The model was reportedly in Miami with the Atlanta native when he recorded his "Drink Champs" interview.
The two appear not to be trying to hide their relationship as they were spotted together at his Donda Academy's debut basketball game in Minneapolis over the weekend. In a picture which has circulated online, the pair sat side by side, with Vinetria dressing in an all-black outfit and Ye donning a bomber jacket. The model also posted on her Instagram Story a video of her rumored boyfriend performing at the event.
Moreover, Vinetria is believed to have attended Kanye's Sunday Service last weekend. She will likely also attend his next Sunday Service.
Kanye and Vinetria dating rumors emerge amid Kim's rumored heated romance with Pete Davidson. The reality TV star and the comedian, who shared a lingering kiss during her hosting debut on "Saturday Night Live" in October, sparked speculation that they're an item after they were caught holding hands at Knott's Scary Farm in California on October 29.
Although it was initially said that they were just "friends" who hang around in the same circle, they fueled the dating speculation as they met for dinner two nights in a row during the reality TV star's stay in "The King of Staten Island" star's hometown of New York City.
Meanwhile, during his "Drink Champs" appearance, Ye insisted that Kim is still legally his "wife" as their divorce is not finalized yet. "This ain't no joke to me," the father of four stressed, adding that it's his wish and his children's wish to have him and his estranged wife back together. "My kids want their parents to stay together," so he claimed. "I want us to be together."
As if that's not confusing enough, he reportedly has unfollowed Kim on Instagram. Sources said the Kardashians are worried that the 44-year-old may have a "meltdown" over Kim's rumored romance with Pete.
"Everybody in the family is worried about how Kanye will react to Kim spending so much time with Pete," one source told Page Six. "Kanye recently said he still wants to be with her, so he can't be taking this well."
"He just unfollowed her on Instagram, but we think it's only a matter of time until Kanye has an outburst," the source added, noting that some in the Kardashian camp are "wondering why" Kim is spending so much time with the "SNL" star. "Yes he's a funny guy, but she must know how Kanye could react," added the source.
Source: Read Full Article