Kanye reportedly cheated on Kim, plus more celeb love news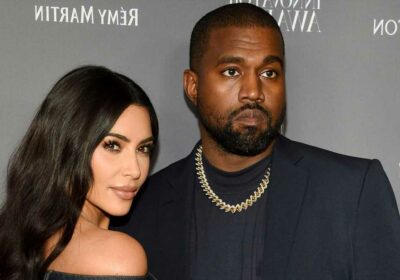 Wonderwall.com is taking a look back at the stars who found love, suffered heartbreak or experienced some other major event in their love lives in late August and early September 2021, starting with this former power couple… On Sept. 1 — amid conflicting reports about whether or not Kim Kardashian and Kanye West are headed toward a reconciliation — Page Six dropped a major bombshell: According to multiple sources, the rapper cheated on the reality star early in their marriage. The track "Hurricane" off his newly released "Donda" album reportedly references his infidelity: "The song is in a way his testimony of everything he did wrong and taking accountability for their marriage breakdown," one insider told the New York Post's gossip column, adding that the father of four is "referring to his infidelity during his marriage with Kim, even after two kids." Meanwhile, multiple media outlets reported that the "Keeping Up With the Kardashians" alum is seriously considering calling off their divorce.
Keep reading for the latest on where Kim and Kanye currently stand, plus brush up on more of the week's biggest celeb love life updates…
RELATED: Notorious celeb cheating scandals
On Sept. 1, E! News reported that, according to a source, Kanye West has made it clear that he wants to reconcile with estranged wife Kim Kardashian: "Kanye has expressed that he wants her back, and Kim is open to it, but wants to focus first on rebuilding their foundation and friendship back stronger," the source said, adding that the reality star is "not rushing" to finalize her divorce from the rapper. "She and Kanye are in a good place right now and she is not on a rushed timeline to push the divorce forward … [They] are finally in a great place and Kim wants to enjoy this time and be a family unit," explained the insider. Echoed an Us Weekly source, "Kanye wants to get back with Kim. He sees the two of them together and wants to make that a reality now. He has been trying to get back in her good graces again and it seems to be working." Kim, meanwhile, "has been hesitant to get back together with Kanye because he was all over the place" in the year leading up to their early split. A second Us Weekly source said that Kim is "deeply conflicted" about her future with Kanye, who didn't realize how "unhappy and lonely" she was until she filed for divorce. "These past few months have made Kim's decision to end the marriage even more difficult because Kanye has been very present in the relationship," said the second Us Weekly source, adding that the former couple "have a lot of issues to hammer out" if they hope to reconcile. Still, "Kim isn't calling the divorce off, not yet anyway." An "Entertainment Tonight" source also said that while Kim is "considering her options," Kanye "wants to get back" with her and "has been trying to win her over again and reprove himself." Said the "ET" insider, "She is open to seeing where things go with Kanye and to see if they can work through their issues as a couple. Regardless of what happens, Kim and Kanye plan to co-parent in a healthy way and will always maintain a supportive relationship."
RELATED: Celeb couples who broke up and got back together
It's official! Regé-Jean Page and his rumored girlfriend, freelance copywriter and part-time soccer player Emily Brown, made their official debut as a couple at the GQ Men of the Year Awards in London on Sept. 1. Although the couple — who've managed to keep their relationship under wraps since a British tabloid revealed in February that they're an item — avoided being photographed together in an official capacity during the event, the paparazzi managed to catch them holding hands outside. The "Bridgerton" star and his real-life leading lady are said to be serious: They reportedly bought a home together in early 2020. 
RELATED: Celeb couples' red carpet debuts
On Sept. 1, E! News broke the news that Soleil Moon Frye is dating Crazy Town frontman Seth "Shifty Shellshock" Binzer. "Seth is the happiest he's ever been. They have a lot of mutual friends. They inspire each other," said a source. The former child star and the "Butterfly" singer have reportedly been friends since eighth grade, though it's unclear when exactly they took their relationship to the next level. Soleil — who filed to divorce Jason Goldberg in December 2020 following more than two decades of marriage — first sparked rumors she and Seth had become more than friends when she took to Instagram on Aug. 23 to wish him a "happy happy birthday" by sharing a photo of them snuggling on the beach.
There's someone special in Colton Underwood's life! On Sept. 1, TMZ published photos of the former star of "The Bachelor" packing on the PDA with political strategist Jordan C. Brown on the beach at the Four Seasons in Maui. Jordan is the first man to whom Colton has been linked since he came out as gay in April.
On Aug. 27, Deux Moi reported that, according to an anonymous source, Kristin Cavallari and Chase Rice are an item. The source claimed that while visiting Bakers Bay Golf and Ocean Club in the Bahamas, he or she overheard the country music star "telling his group of friends that he's recently been spending time" with the reality TV star and that "things are getting serious between the two of them in Nashville." Four days later, multiple mainstream media outlets confirmed the romance rumors: "They've been seeing each other a little over a month. They were introduced through a mutual friend. She was last spotted at his concert. They're having fun together," said a People magazine source. Echoed an Us Weekly source, "It's still very new, but they really like each other. They've been spotted around Nashville on a couple of dates, she's been to one of his shows and they're taking things slow. … Kristin thinks Chase is a really sweet and fun guy." Added an E! News source, "At the moment, it's still casual. It's new." And TMZ reported that, according to their sources, Kristin and Chase have been dating for about two months and while things are still "pretty low-key and casual so far," they're "talking and hanging out pretty regularly" and "seem to be heading toward that territory best described as smitten with each other." According to the webloid, they hit it off after meeting through a mutual friend in Nashville, "but their relationship isn't exclusive just yet." TMZ also notes that the singer-songwriter has yet to meet the children the "The Hills" alum shares with ex-husband Jay Cutler.
New couple alert? Chelsea Handler was snapped packing on the PDA with fellow comedian Jo Koy after he threw out the first pitch during the Los Angeles Dodgers game against the Atlanta Braves at Dodger Stadium in L.A. on Aug. 31. The following day, Deux Moi reported that an anonymous sources saw them "kiss" during the game. Deux Moi later reported that another anonymous source previously spied the duo "making out" in Montecito, California.
On Aug. 31, Ashley Judd casually revealed she has a new boyfriend! The actress-activist took to Instagram to share a slideshow of photos and videos from Boston's Fenway Park, where she took in a Red Sox game with her dad and her mystery man. In the caption, she gushed about how much baseball means to her family. She then dropped the bombshell: "Thank you, #redsox for helping us make some very special family memories! Dad said he hadn't had so much fun since he was 14. And for my partner, who is Swiss – quelle introduction!!!!!!" she wrote. She's yet to publicly reveal her boyfriend's identity.
Deux Moi reported on Sept. 1 that, according to an anonymous source, Skeet Ulrich and model Lindsay Kavcic were "kissing all day" during a late-August trip to The Surf Lodge in Montauk, New York. According to the spy, they "ended up leaving together." (See a photo of them together here.) The 51-year-old "Scream" actor — who was last linked to 32-year-old "Pretty Little Liars" alum Lucy Hale — is more than twice the 24-year-old beauty's age.
On Sept. 1, E! News broke the news that Skylar Astin and Lisa Stelly recently called it quits. A People magazine source later shed some light on what went wrong: "They're both so busy, but there is no drama between them at all. Lisa's business is growing like crazy, Skylar was in Canada working for half the time they were together, and they both just needed some time to recalibrate on their own. They still love and support each other a lot and it's definitely hard for both of them," said the insider. The "Zoey's Extraordinary Playlist" star and the Fancy Sprinkles founder, who was previously married to Jack Osbourne, went public with their romance in July 2020.
On Sept. 1, Tom Holland made his rekindled romance with Zendaya Instagram official in honor of her 25th birthday. "My MJ, have the happiest of birthdays. Gimme a call when [you're] up," the "Spider-Man" star captioned a mirror selfie with his on-screen and real-life love, referencing her Marvel alter ego, Michelle "MJ" Jones. Commented the birthday girl, "Calling now." The off-and-on couple have become less shy about sharing their love with the world since they reconciled romantically earlier this year.
On the Aug. 26 episode of "The Tonight Show Starring Jimmy Fallon," Camila Cabello shut down speculation that she and Shawn Mendes are secretly engaged following two years of coupledom. "He has not [proposed] and I am not engaged," she said. The former Fifth Harmony singer went on to say that fans shouldn't read too much into the bling she wears on her ring finger: "I swear to God, I don't know what hand the engagement ring goes on, so sometimes I'll just, like, put [a ring] on my ring finger. I mean, I'd actually like you to enlighten me: Which hand is the engagement hand? Because I don't know."
On the Sept. 1 episode of Demi Lovato's "4D with Demi Lovato" podcast, "Schitt's Creek" star Emily Hampshire, who identifies as pansexual, revealed that the former child star once slid into her DMs. "You said, 'Hey, I like you on the show. We should kick it sometime.' And then you said below it, 'And by kick it, I mean go on a date. I find you attractive.' You made it clear it was a date. And I loved that because sometimes that's confusing. I'm decades older than you, so 'kick it,' I was looking it up," the 40-year-old Canadian actress told the 29-year-old pop star, according to Page Six. Continued Emily, "You also said, 'Think of Sarah Paulson and Holland Taylor.' And then right after you were like, 'I don't mean you're the Holland Taylor!' … I thought it was the funniest thing in the whole world because I was a Holland Taylor in that situation. Proud to be." (The 78-year-old "Two and a Half Men" alum and the 46-year-old "American Horror Story" star have been an item since at least late 2015.) At that point, Demi chimed in to say that the comparison wasn't their "smoothest move." Added the Grammy nominee, "[I] was dreaming big. I was like, 'What's the worst that could happen?' And I made a really good friend. You're a dope friend, and I'm happy we became friends." Emily, by the way, has been single since ending her engagement to Teddy Geiger in mid-2019. "I went through a difficult breakup, and it kind of forced me to really go to therapy and look at myself because I was all about the other person," she said. "Everything was about me not having any needs and any self-worth, and now that I've finally gotten to that — after lots of expensive, expensive therapy — I love me so much and doing what I want to do that I'm scared to get into a relationship. I'm worried that I'm just going to give that up."
During an interview with The New York Times that debuted online on Aug. 26, country music star Kacey Musgraves briefly opened up about her relationship with boyfriend Cole Schafer, revealing that she met the poet after they locked eyes across a crowded restaurant. "He did not know who I was, which I loved," she said. The duo were first linked in June.
Late last month, Hollywood Life reported that Saweetie and Quavo are headed toward a reconciliation. But when the "Best Friend" rapper caught wind of the rumor about her love life, she took to Twitter to shut it down: On Aug. 26, she called the Hollywood Life story a "pinocchio a** article," indicating that it's a lie.
According to People magazine, which published exclusive wedding photos, "Little People, Big World" star Amy Roloff and longtime love Chris Marek tied the knot at Roloff Farms in Hillsboro, Oregon, on Aug. 28. "Our wedding day is a special day, but our marriage is a lifetime together. I'll have the rest of my life with Chris and that makes me smile," said the bride. The duo got engaged in September 2019 after three years of coupledom.
On the Aug. 30 episode of "The Ben and Ashley I. Almost Famous Podcast," Bachelor Nation's Jesse Palmer — who headlined the fifth season of "The Bachelor" back in 2004 — revealed that he quietly married his love of five years, model Emely Fardo, over the summer. The pair originally intended to tie the knot in France in the summer of 2020 but canceled their wedding plans amid the coronavirus pandemic. They then made plans to exchange vows in France in July 2021 … and again their plans were thwarted by the pandemic. Ultimately, they decided to have "a very small, intimate wedding" near their home on the East Coast. "[We wanted] to have that moment [and] have our day because we'd been looking so forward to it for a very, very long time and were anxious to kind of take the next step," the sports commentator and former NFL quarterback — who popped the question in the summer of 2019 — explained on the podcast after co-host Ashley Iaconetti noticed he was wearing a wedding band. Jesse added that he and his new missus hope to celebrate their marriage with their parents — who weren't able to attend their wedding due to travel restrictions — in the summer of 2022.
In late August, there were whispers that Shanna Moakler and Matthew Rondeau had reconciled (again) after briefly calling it quits in July… Well, it looks like the rumors were true! On Sept. 1, the male model and the former reality TV star each took to their Instagram Stories to share videos from what appeared to be the same miniature golf course. Later, Shanna could be heard giggling in the background of a video Matthew posted from a Benihana restaurant. When Matthew announced their most recent breakup earlier this year, he said of his off-and-on love, "I hope she finds what she's looking for, but it's not going to be me." Let's see how long this round lasts…
On Aug. 30, The U.S. Sun broke the news that Alana "Honey Boo Boo" Thompson has been secretly dating 20-year-old college student Dralin Carswell for the past six months. "Dralin and Alana are attached at the hip and hang out together all the time," said a source, adding that the reality TV star's four older sisters approve of her beau. "He was quiet at first, but he's like one of the family now. He's just as fun and crazy as the rest of them." The duo reportedly made their relationship "Facebook official" in late March.
"Below Deck Mediterranean" stars Malia White and Jake Baker are apparently an item! On Aug. 28, Jake took to Instagram to share a photo of himself kissing the blonde beauty by a swimming pool. He first hinted they were more than friends in late July when he took to Instagram to publicly celebrate Malia's 31st birthday, captioning a photo of himself and the birthday girl posing in front of her birthday balloons, "HAPPY BIЯTHDAY to the Moon Boot Queen herself. ILY." Around the same time, Malia told Us Weekly that she and her ex, Tom Checketts, called it quits in the summer of 2020 because he cheated.
On Aug. 28, LoveBScott.com reported that, according to multiple sources, "The Haves and the Have Nots" alum Tyler Lepley has been dating "P-Valley" co-star Miracle Watts since June 2021 after quietly parting ways with long-term love April King — to whom he was secretly engaged — sometime last year. The actor shares two children — including a daughter who arrived in December 2020 — with the ICM agent. (According to B. Scott, it was his decision to end the relationship.) Miracle, meanwhile, was linked to Diddy earlier this year.
Donnie Wahlberg and Jenny McCarthy marked their seventh wedding anniversary by participating in a vow renewal ceremony on Aug. 31. The New Kids on the Block singer shared a slideshow of photos of himself and his missus snuggling during the ceremony: "#HappyAnniversary Jenny! Seven years — no itch! I love you more than ever, Mrs. Wahlberg. To be blessed with a partner whose goal is to make sure that I love myself more and more each day — is to be truly blessed. Thank you for holding me down, while always holding my kite string and letting me fly. You are my soul mate in every way. My heart is overflowing with gratitude, appreciation and unconditional love, for you. I love you Lady. Thank you Reverend Ray McElroy (aka @bellboy47), my friend and Minister, for helping me surprise my wife again (got ya baby) and for gracing us with your wisdom and your blessing. 'Seven = Completion. Perfection.' So grateful to be able to 'renew' God's amazing blessing for another year. On to forever. HappyAnniversaryJenny!" he wrote in the caption. Jenny gushed over her husband in the comments section, writing, "I don't need to tell the world how lucky I am. But I plan on telling the world how lucky I am, every year, on our Anniversary. You are the LOVE of my life. I adore you mister." She also celebrated their anniversary by sharing a video featuring photos of herself and her hubby from their childhoods and then over the course of their relationship. "Dreams do come true. Happy Anniversary, my love. I adore and love you. Infinity," she wrote in the caption.
In early 2021, the Internet erupted with unsubstantiated rumors claiming that Kim Kardashian and longtime friend and colleague Van Jones were dating following her split from Kanye West. The mother of four made it clear on the "Keeping Up With the Kardashians: The Final Curtain" reunion special, which aired in mid-June, that her relationship with the CNN star was strictly platonic. But Van kept mum on the topic … until an Aug. 28 interview with Page Six: "I've never made comments about the rumors of me and Kim Kardashian dating as I found it absurd. … It was flattering for me, but it probably wasn't flattering for her," he told he New York Post's gossip column.
He said, she said! On the Sept. 1 episode of his "Behind The Rose" podcast, Blake Horstmann said that he was "really hurt" by Becca Kufrin's recent comments denying his assessment that they might have finally gotten together earlier this year if she hadn't signed on to appear on the current season of "Bachelor in Paradise." ("If we're not together, then … it's because we chose not to be together," she said, insisting that "nothing romantic" has happened between her and Blake since she picked her ex-fiancé, Garrett Yrigoyen, over him on the finale of season 14 of "The Bachelorette" in 2018.) According to Blake, she's lying. "It's no secret that we were hanging out prior," he said. "My friends certainly know the truth. I think most of the people in 'Bachelor' world know the truth. Her friends sure as s*** know the truth." He then hypothesized that Becca could be lying about their relationship because she's "protecting something or someone." (In other words, she might have gotten engaged on "Bachelor in Paradise" and doesn't want her new love to think she still has feelings for her ex.) Blake then acknowledge that if that's what's really going on, he could "respect her for that."
On Aug. 26, Us Weekly reported that, according to a source, Addison Rae and her boyfriend, Omer Fedi, have "been together for four months," are "super into each other" and are "getting pretty serious." The "He's All That" actress is reportedly "very into" the Israeli producer-guitarist. "She thinks he's so cool and loves his music," said the source, adding that the pair have "a lot of mutual friends in common."
On Sept. 1 — after his time on the seventh season of "Bachelor in Paradise" had come to an end — Bachelor Nation's Chasen Nick took to Instagram to reveal he has a girlfriend: a beautiful nurse and model named Liv. "I went on a reality TV show twice to build a connection (find love), when she was in my city all along," the San Diego native captioned a slideshow of photos of himself and the blonde beauty, who's been quietly posting photos and videos with her beau on her Instagram Story since at least late July. Chasen, by the way, romanced Clare Crawley and Tayshia Adams on season 16 of "The Bachelorette."
Engaged again! According to People magazine, which published exclusive engagement photos, Jessey Lee proposed to Chèrie Chan at the Jacquemart-André Museum in Paris on Aug. 30. He popped the question by gifting her a custom painting of them embracing by the Eiffel Tower with the words "Will You Marry Me?" scrawled above them. The long-term couple — who have two children — starred on the first season of Netflix's "Bling Empire," which showed Chèrie proposing to Jessey. This time, he did the question-popping. "I've wanted to propose to Chérie on multiple occasions, first time was in Maldives, but Chérie was extremely pregnant and I wanted to do nothing but take care of her," he explained. "The second time I had planned a family trip to propose to Chérie under the cherry blossoms in Tokyo but her mom was really ill, so I postponed the whole engagement. Although Chérie had proposed to me, I'm glad I got to propose to her now. It's something I've always wanted to do but the timing wasn't right." Said the bride-to-be of the proposal, "I was very, very shocked, I thought we were just doing a private tour, but Jessey shutdown the whole museum for me. And the special painting is something that I'll always hold dear to my heart." Chérie added that they "finally feel engaged" and are "ready to plan the wedding now." They will not return for the upcoming second season of "Bling Empire." 
According to People magazine, which published exclusive wedding photos, "Days of Our Lives" actress Camila Banus married her partner of nearly a decade, actor Marlon Aquino, at The Castle House Estate in Joshua Tree, California, over the weekend of Aug. 28. 
According to People magazine, which published exclusive wedding photos, professional beach volleyball player Maddison McKibbin — who was a finalist on the 32nd season of "The Amazing Race" in late 2020 — married Chelsea Hayes on the beach in Mexico on Aug. 28. The "extremely casual" nuptials reportedly featured a mariachi band, a Mexican food buffet, popsicles in lieu of a wedding cake and a fireworks display. The couple started dating in 2016 and got engaged in October 2020.
On Aug. 28, Joe Budden sparked rumors that he's dating Snoh Aalegra when he took to Instagram to share a photo of himself whispering in her ear. "And lemme tell you another thing about pianos. … (She's not for play!!)," he wrote in the caption. Later that day, after the photo blew up on social media, Snoh took to Twitter to set the record straight about her relationship (or lack thereof) with the controversial podcast host: "So I run in to Joe Budden and speak to him for 10 seconds at an event, a pic was taken, and now people say we are dating??????? You guys are actually insane. Get a life!" she tweeted, undoubtedly crushing Joe's heart in the process! (The "Love and Hip Hop: New York" star hasn't shied away from publicly expressing his admiration for the Swedish singer-songwriter over the years.)
Drew Barrymore's ex-husband, art consultant Will Kopelman, married Alexandra Michler at the Sankaty Head Beach Club in Nantucket, Massachusetts, on Aug. 28. The newlyweds were first linked in late December 2020 — a month before they got engaged.
Duane "Dog the Bounty Hunter" Chapman is one step closer to marrying Francie Frane: According to TMZ, the duo, who are set to wed on Sept. 2, filed for a marriage license in Colorado on Aug. 27. They got engaged in mid-2020 after just a few months of coupledom.
TMZ reported on Aug. 30 that a judge recently signed off on Cat Cora and Nicole Ehrlich's divorce settlement. Nicole, who filed for divorce in April, is walking away from the marriage with three cars — a 2010 Lexus RX 350, a 2015 Audi CV and a 2017 Jeep — plus some furniture, jewelry and several bank accounts. The "Iron Chef" star will hold onto some furniture, jewelry and artwork as well as some of her companies. Neither will receive spousal support from the other. Their divorce will reportedly become official on Nov. 8. 
Source: Read Full Article