Julia Fox's Story of 'Thirsty' Cara Delevingne Resurfaces After Megan Thee Stallion BBMas Moment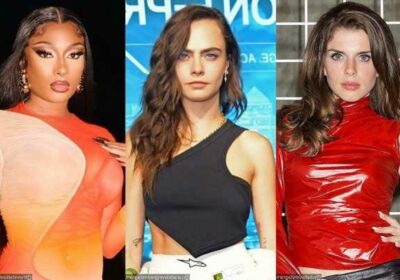 Back in 2021, the 'Uncut Gems' actress shared a recap of her experience attending an Azealia Banks concert, where the 'Suicide Squad' star made a surprise appearance and made a scene.
AceShowbiz –Cara Delevingne's eyebrow-raising behavior at the 2022 Billboard Music Awards became a hot topic on social media. Apparently, that wasn't the first time for the English model to behave like that. Amid the online chatter about the latter stalking out Megan Thee Stallion around at the award-giving event, Julia Fox's past story involving Cara resurfaced online.
On Monday, May 16, a Twitter user revisited Julia's recap about her experience at an Azealia Banks concert where Cara made a surprise appearance. Julia and Niki Takesh shared the story in an episode of their podcast "Forbidden Fruits" in late 2021.
"The craziest thing happened," Niki recalled at the time. "We're watching Azealia Banks and, like, we look to the side of the stage, we were, like, up close in the front. And we see this person, like, trying to keep push past, rushing past security."
They claimed that the "Valerian and the City of a Thousand Planets" star attempted to get on the stage while Azealia was performing, but security stopped her from getting near the singer. Cara, however, didn't give up as she moved to the front of the stage to get Azealia's attention.
"We realized very quickly that Cara is wasted," Julia alleged, adding that Cara "fell backward" on the stage and later fell into the crowd. The "Uncut Gems" actress continued, "It was so crazy. I could tell by Azealia's face, she was like over it. She was like, 'OK, let me have my moment.' " She then concluded her story by calling Cara "thirsty." A Twitter user additionally shared a clip of Cara at the concert pretending to lick Azealia's legs as she was singing to the crowd.
Cara received a lot of backlash after she made headlines for her appearance at the Billboard Music Awards on Sunday, May 15. The "Paper Towns" star was accused of stalking Megan as she was always spotted near the "WAP" hitmaker at the event.
The Houston rapper herself didn't seem to be comfortable with the "Suicide Squad" star sticking to her throughout the night. The "Savage" raptress reposted a photo from the 2022 BBMAs with Cara being cropped out.
Source: Read Full Article