Jonnie Irwin enjoys chaotic movie night with three young sons amid brave cancer battle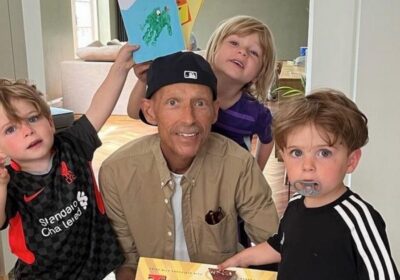 A Place In The Sun's Jonnie Irwin could be seen playfully chasing his three young sons around his living room in a clip posted to his Instagram page.
Jonnie's boys giggled as they ran back and forth with their dad during a family movie night at home on Sunday 8 October.
Joking that a night in front of the TV turned into a workout, he captioned the post, "Move night ended with shuttle runs coached by @therealnihal. Felt more like a bleep test."
A musical retelling of classic children's tale The Gingerbread Man, featuring musicians from the BBC Philharmonic and narrated by Nihal Arthanayake, was playing on CBeebies in the background.
Jonnie's wife Jessica could be heard laughing and cheering as she filmed from the sidelines.
"I'm getting tired now," said an out-of-breath Jonnie, who revealed last November that a tumour in his lung had spread to his brain. He then collapsed onto the sofa beside his wife, who added, "Well done," as the clip ended.
Fans rushed to the comments to talk about the 49 year old's adorable video, with one fan writing, "I'm worn out watching you all!" Another person said the clip was "beautiful to watch", while a third added, "I've watched it 10 times. Beautiful Dad and gorgeous mini Jonnies."
Since learning of his cancer diagnosis, Jonnie has been focused on creating memories with his wife and children, regularly sharing their family outings on social media. He also recently posted a picture of him celebrating his seventh wedding anniversary with Jessica, 40, who he has been married to since 2016.
Jonnie has been keen to share any health updates with his fans, too, with the most recent development being that he's now using a hyperbaric oxygen chamber – a clever device used to help the user's lungs gather more oxygen. He wrote on Instagram on Friday 6 October, "I can't tell you how happy I am with the Hyperbaric Oxygen Chamber lent to me by @o2worx.
"It's great for people with my condition but also for recovery from injuries and general wellness. I'm not gonna preach but if you're interested Google it – you'll be surprised! This chamber is perfect for me. No feelings of claustrophobia and it's just big enough to get my favourite comfy chair in it! I actually look forward to each session knowing that it's doing me good whilst being able to do a bit of work."
Source: Read Full Article