Joe Sugg: Strictly star drops F-bomb while taking aim at government in furious rant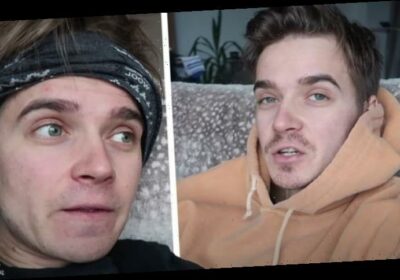 Strictly: Joe Sugg says HRVY has done 'incredibly well'
Joe Sugg, 29, couldn't control his frustrations while discussing the latest lockdown and controversial situation over Christmas last year. Many believed that Prime Minister Boris Johnson should have put the UK back into lockdown back in September 2020, after cases started rising following the first lockdown period which ended in June, and Joe, who will appear on Michael McIntyre's celebrity instalment of The Wheel, was among them.
F**k off!

Joe Sugg
Mr Johnson made the decision to enforce a second lockdown in November, with shops and hospitality allowed to reopen in the run up to Christmas in a bid to boost the economy after a trying year.
We entered a tier system, but as cases once again started rising he had to make the difficult decision to cancel Christmas in some areas of England, which left regions distraught and unhappy.
These somewhat costly mistakes have meant that 2021 began with doom and gloom as a third nationwide shut down was implemented in the new year sparking many to beg the question – was having Christmas (in some cases) worth it?
We will use your email address only for sending you newsletters. Please see our Privacy Notice for details of your data protection rights.
Well Joe certainly didn't think so and called the government out for their decisions, using the F word to describe how some may be feeling.
In his latest blog alongside his girlfriend and former Strictly Come Dancing partner Dianne Buswell, the pair discussed what could have been if the government had acted differently.
"Yes, the situation is s**t right, but it's not the situation – we're used to the situation," Dianne said.
"It's the way we deal with it."
View this post on Instagram

A post shared by Dianne Buswell (@diannebuswell)
Joe agreed: "It's the frustration of knowing we should have locked down back in September.
"But they decided Covid doesn't come for Christmas," he mocked, in a high voice before cursing: "F**k off!"
"Doesn't matter if it's Christmas, Covid is still there isn't it," he snapped, rolling his eyes.
As festive plans were cancelled left, right and centre, Dianne was left gutted that she wasn't able to visit her family in Australia.
The dancer was meant to be returning home for the holidays after working on Strictly until the final, but travel restrictions and new tier four rules meant she had to cancel her plans.
DON'T MISS…
Tom Hanks sparks health fear among fans during Biden's ceremony
Richard Hammond: The Grand Tour host on killing family pet
Cole Sprouse: Riverdale star on Jennifer Aniston: 'Quite difficult'
In an emotional Instagram post, she described her sadness at not being able to travel back to her home country.
She wrote alongside a picture of her and Joe sprawled under their Christmas tree: "It was meant to be the night before I flew out to Australia to see the fam.
"It's very sad and frustrating but so many of us are in similar positions this year if not worse. Sending love to everybody who can't see their loved ones this Christmas!"
She added: "Silver lining is I get to stay and annoy this one a little longer than planned! And Australia I'll be there as soon as I can."
The Wheel airs Saturday's at 8:30pm on BBC One.
Source: Read Full Article